A Healthy Eating Plan for Fussy Eaters
November 9, 2015
6 min read
Healthy eating. Clean eating. Dieting. Five-a-day.
Call it what you will, we're used to being bombarded with guilt-inducing information on the importance of eating well. The problem is that many of the healthy options glamorised by the rich and famous frankly aren't very appealing or easy to make.
But the good news is that you don't have to live a miserable existence on carrot juice and kale to eat well; there are lots of other more appealing foods that are still good for you.
Don't believe it? Take a look at this week-long healthy eating plan for some inspiration – there's not a beetroot in sight!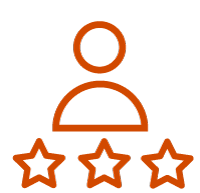 Want to Learn More?
Our Nutrition and Healthy Eating Course will provide you with an introduction to nutrition and the importance of healthy eating. You will learn about the essential components of a nutritious diet and find tips, ideas, and recipe suggestions.
---
Monday
Breakfast
Fruit salad – there's something about fruit salad that somehow makes eating fruit more fun; chopped fruit seems to taste better, too. Slice and dice a selection of your favourite fruits (you can include tinned fruit, but make sure it's in juice rather than syrup) and serve with a spoon or two of Greek yoghurt.
Lunch
Tomato soup and wholemeal bread – Make your own soup if possible, as tins of soup tend to have lots of added salt and sugar.
Dinner
Bangers and mash – choose lean sausages (venison if you can) and grill them on a wire rack, as this lets fat drip away. For the mash, substitute your normal potatoes for tasty sweet potatoes, which count as one of your five-a-day. Serve with roasted carrots for an extra vegetable, and follow with a low-fat fruit yoghurt for dessert.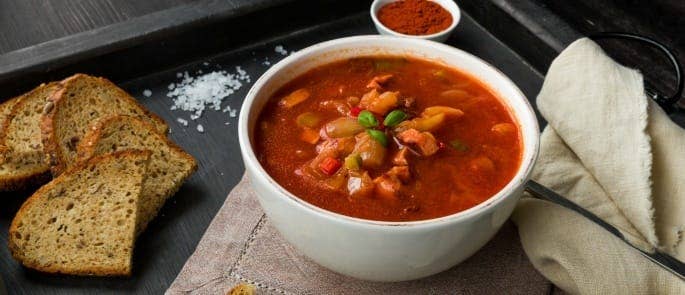 ---
Tuesday
Breakfast
Porridge with fresh fruit – porridge (and oats in any form) is a great choice for breakfast because it's filling, and releases its energy slowly throughout the morning. Top your porridge with your choice of fresh fruit (bananas, strawberries and blueberries go particularly well) to finish it off.
Lunch
Crusty granary bread with low-fat cream cheese and tomato – think of it as a bit like a pizza, with the bread for the base and the low-fat cream cheese (try Philadelphia Light or ricotta) and sliced tomato for the topping.
Dinner
Chilli con Carne with brown rice – you can make this just as you normally make chilli con Carne, but ensuring that you use the leanest minced beef, and swapping white rice for brown. Cook the meat in a low-fat cooking spray and serve with a low-fat sour cream or cheese.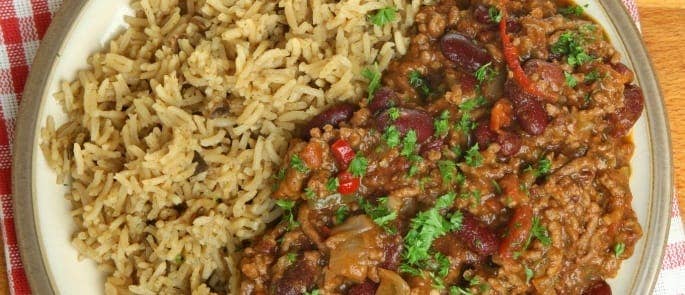 ---
Wednesday
Breakfast
Tropical breakfast smoothie – chop up a banana, a small mango and three passion fruits, and blend them together with 300ml of orange juice for a refreshing and healthy start to the day.
Lunch
Baked beans on granary toast – yep, you read correctly. Good old beans on toast is a perfectly legitimate healthy option; the beans count as one of your five-a-day, and the granary toast gives you plenty of healthy wholegrains.
Dinner
Healthy homemade pizza – it's easier to make than you'd think. Use wholemeal flour for the base, pure tomato passata with basil, garlic and oregano for the sauce, and top it with shredded mozzarella, rocket leaves and halved vine tomatoes. You can put other vegetables on it as well – red peppers, onions and mushrooms all work well.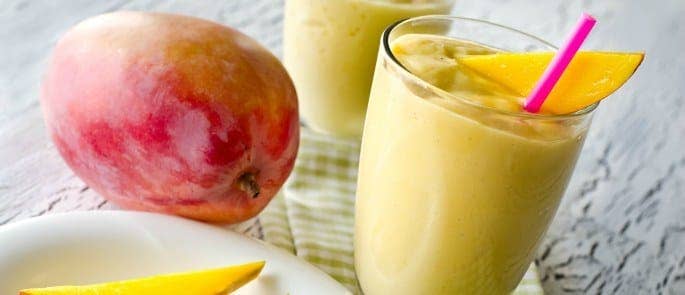 ---
Thursday
Breakfast
Poached egg and avocado on toast – place a poached egg on top of a slice of granary toast spread with crushed avocado, seasoning with salt and pepper.
Lunch
Tuna and cucumber wrap – it's a winning combination, especially when you throw in some red onions or spring onions to add to the flavour. Use a wholemeal wrap for added health benefit.
Dinner
Lemon chicken – cook the chicken in low-fat cooking spray, then remove and simmer onion and mushrooms in white wine. Add lemon zest and juice, parsley and seasoning and cook until reduced, before adding the chicken back into the pan for another 15-20 minutes. Serve with brown rice and your choice of green vegetables or carrots. Choose a piece of fruit for dessert.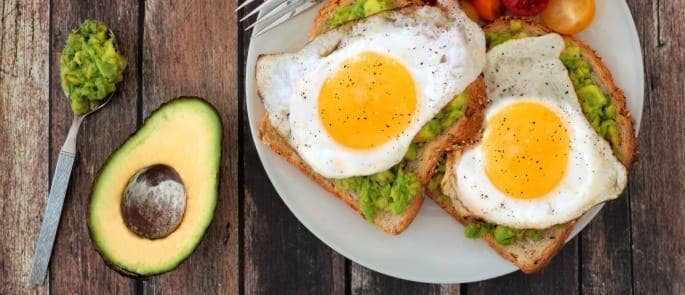 ---
Friday
Breakfast
Pineapple and raspberry parfait – layer up natural low-fat peach yoghurt with raspberries and chunks of pineapple.
Lunch
Chicken salad – salads don't have to be boring. Dress up a selection pack of a variety of lettuce leaves by adding some grilled chicken, tomatoes, spring onions and any other salad-y things you fancy.
Dinner
Fish and chips – it's a Friday, so why not treat yourself to fish and chips! This version of the British seaside staple is somewhat healthier than the greasy, newspaper-wrapped variety though!
Wrap a seasoned fillet of fresh fish in foil (salmon, cod and hake work well) and bake in the oven, accompanied by homemade sweet potato chips roasted with light olive oil and a sprinkling of herbs. Don't forget to serve it with some peas.
For dessert, try making your own fruit juice ice lollies by filling moulds with fruit juice and freezing them.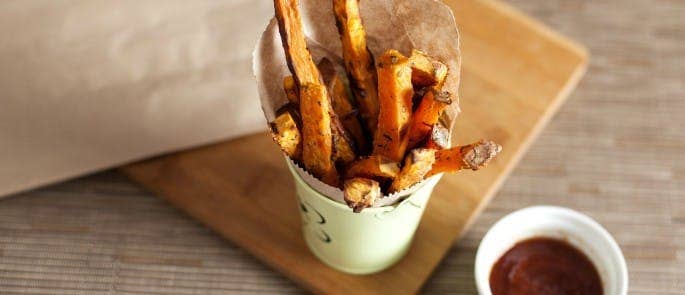 ---
Saturday
Breakfast
There's more time for breakfast at the weekend, so treat yourself to some homemade breakfast muffins. This easy recipe is sweetened with apple and banana puree and honey, and it's made with wholemeal flour and oats for a tasty yet healthy start to the day.
Lunch
Mushrooms on granary toast – mushrooms are delicious lightly fried in olive oil with a little milk, low-fat Philadelphia and wholegrain mustard. Serve on a slice of granary toast for a quick and healthy lunch.
Dinner
Chicken fajitas – this fun yet wholesome Mexican favourite is easy to fit into a healthy eating plan. Cook the chicken in a smidgeon of light olive oil and spices (chili powder, cumin, paprika, cayenne pepper, garlic powder, salt and pepper), and serve in a wholemeal wrap with plenty of salad, homemade salsa (finely chopped tomatoes, coriander, red onion, lime juice, garlic, chili powder, cumin, salt and pepper), low fat sour cream and low fat cheddar cheese.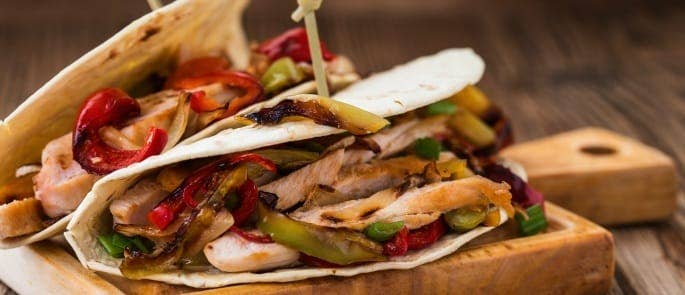 ---
Sunday
Brunch
A healthier full English – there's no reason why you can't still have a fry-up when you're on a healthy eating regime; just make a few modifications. Don't overdo it on the cooking oil – swap it for a low-fat cooking oil spray.
As I mentioned earlier, baked beans are fine, and extra lean sausages are OK too. Slice a nice big beef tomato in half and gently grill it, and try poaching your egg instead of frying it. Swap fried bread for a slice of granary toast and voila – you have a healthy full English.
Dinner
Vegetable stir-fry – these are great for getting rid of unused veggies from the rest of the week, as you can add pretty much anything. Brown sliced onions, garlic and ginger and set to one side, then thinly slice the vegetables (pepper, broccoli and carrots all work well) and fry in a wok with sunflower oil.
Once they're soft and nearly cooked, add the more delicate vegetables, such as spinach, pak choi and beansprouts, along with the onions, garlic and ginger and a stir-fry sauce of your choice. Add noodles, sesame seeds and soy sauce to add that final 'zing' of texture and flavour.
---
Snack Well in the Week
Choose from the following healthier options when you're feeling too peckish to wait for your next meal.
Wasabi peas, these are spicy, crunchy, and good for you (in moderation, of course!).
Dried banana chips have all the great taste of a fresh banana, conveniently packaged for grazing throughout the day.
Vegetable crisps are a delicious alternative to traditional crisps. Vegetable crisps are made from dried parsnip, carrot and other root vegetables, but don't let that put you off. These crunchy treats taste nothing like their raw form, and they're better for you than normal crisps.
Yoghurt-coated dried strawberry pieces, who knew that healthy snacks could taste so good? Dried fruit counts as one of your five-a-day and yoghurt-coated dried strawberries are a delightful way to up your intake.
---
And that's it! Hopefully, this healthy eating plan will satisfy even the fussiest of eaters! You can adapt each meal to make it perfect for you, or swap out meals entirely for something that's more suited to your taste buds using other recipes that you find online.
---
Further Resources: