How to Plan a Bake Sale
August 24, 2023
3 min read
Bake sales are a popular way to raise money for charity, and it's easy to see why. They're fun, delicious and, with the help of this guide, planning a bake sale can be, well, a piece of cake.
Running a local bake sale is a great way to get communities involved in raising money for charity, as many charitable organisations have discovered. Macmillan pioneered the tradition of a 'Coffee Morning': a social gathering involving hot drinks and a lot of baked goods, all in aid of raising money.
In this article, we'll provide you with some inspiration on what to bake, along with tips and ideas to make sure the day runs as smoothly as possible. We'll also explain how to make sure you're legally compliant and provide a free bake sale checklist for you to print and use.
---
What to Bake for a Bake Sale
There aren't any specific rules to follow when it comes to planning what you're going to bake and sell. However, as you're likely to want to sell as many cakes and sweet goods as possible, there are a few sure-fire winners that will be hard for people to resist!
If you're new to baking, aren't very confident or are pushed for time, the following are simple but effective ideas for what you could create:
'School-inspired' sprinkle sponge cakes.
Basic cupcakes.
Shortbread.
Butterfly cakes.
Brownies.
Milk or white chocolate chip cookies.
Lemon drizzle traybake.
Or, if you have experience and/or want to challenge yourself by creating something more complicated, you could try the following:
Florentine biscuits.
Viennese whirls.
Millionaire's shortbread.
Cheesecake lollipops.
Raspberry jam doughnuts.
Red velvet cupcakes.
Chocolate mousse cakes.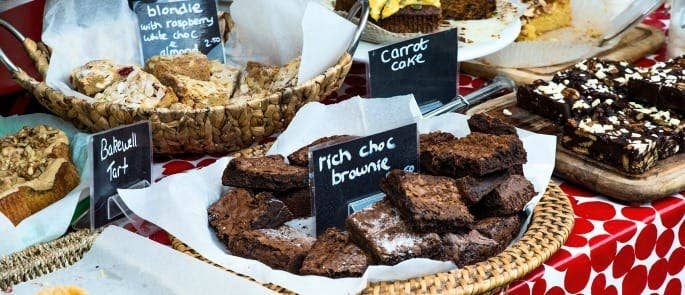 There's always an option for you to buy a cake, or something similar, pre-made from a supermarket or bakery, too. If this is the case, don't forget to keep the packaging as you'll need this to refer back to if anyone has questions about its ingredients or potential allergens.
Cake Decorations
You'll need to consider the presentation, too. Decorations are essential for catching people's eye, so be creative with your decorations and remember your theme. However, it's important to remember that it's unlikely you'll be able to refrigerate your cakes, so you should try and avoid using fresh cream, or something similar, in the decorating as this can easily spoil. Equally, if your bake sale is going to take place outside, don't forget to provide some kind of covering for your cakes – no one wants to buy a cake with a wasp, or other pest, attached to it!
Many people choose to incorporate edible flowers in their cake decorating – a simple and elegant way of enhancing their aesthetic. However, it is very important to remember that not all flowers are edible. In fact, some flowers are highly toxic and if ingested, can cause serious harm. For more information on edible flowers and how to decorate with them safely, check out our article, here.
---
How to Have a Bake Sale Legally
It's not essential for you to have a food hygiene certificate for events such as one-off bake sales. Despite this, it's still extremely important that you practise and maintain safe food handling – make sure it's at the forefront of your mind while you're planning your bake sale. The last thing you want is to have someone rushed off to hospital and a premature end to the fun.
You may feel as though taking a training course would be beneficial to you, such as a Level 2 Food Hygiene and Safety for Catering.
Having this training will also help with your due diligence – which is the main defence under food safety law. To claim a due diligence defence, you must be able to prove that you did everything reasonably practicable to ensure food safety and prevent an offence from occurring. This means having sufficient evidence to prove that you set up a system of procedures and controls.
In order to prove due diligence, the procedures and controls must be operated properly – in other words, you need to show accurate and complete records and full traceability of food products and packaging. You can find out more about a due diligence defence in our article, here.
Allergens
It is also recommended by the Food Standards Agency that you communicate any allergenic ingredients in your cakes to your customers, such as wheat flour containing gluten or butter containing milk.
In the advert for the bake sale, you could include a sentence telling people to inform you of any food allergies they have. This will help you to plan what you can bake to accommodate their allergy. This will help you decide whether to put in place a policy such as 'no nuts' to advise anyone taking part not to include any peanuts or tree nuts in their offerings.
Everyone involved in baking should know what allergens are within the bakes – for example a typical sponge cake will contain gluten, milk and eggs. Ensure hidden allergens are included in the allergen information, such as an egg glaze on a pastry item – these can be easily missed. On the day, display food allergen labels on all baked goods to ensure optimum safety.

Natasha's Law requires all goods that are prepacked for direct sale to have an ingredients and allergen list. This includes items such as a cookie in packaging, or items that are wrapped in cling film.
If someone asks you for allergen information and you are unsure – the safest option is to guide them to a bake you do have the allergen and ingredient information for, so they can make an informed decision.
You can download free food allergen labels in our article, here. If you have store-bought products there, you should always keep the packaging to be able to refer back to, as all of the allergen and ingredient information will be included on there.
---
Bake Sale Tips and Tricks
There are a few things you need to consider when planning a bake sale to make sure the day runs as smoothly as possible and attracts plenty of people.
For a successful bake sale, we suggest you do the following:
Plan your date and venue. Proper planning is the first ingredient of success. Ensure that your sale does not clash with another important event that may detract attention. Make sure the venue is accessible for families and for you to unload everything.
Choose your bakers. Everyone knows that the more baked goods, the merrier. With this in mind, choose as many bakers as your heart desires. Let them know in advance the date you have set, to give them plenty of time to prepare.
Find out what everyone else is baking. It's important that you know what everyone is baking so that your sale is varied and you don't end up with too much of the same thing.
Choose a theme. Having a theme is a great way to get people involved in, and excited about, your sale. If your planned date falls on or near a holiday, like Easter, consider having a holiday-themed sale. Themes can be based on anything, like your favourite animal or your favourite film. Be creative!
Why not throw a competition into the mix(ture)? You could base the competition on the most creative idea or the best tasting or decorated cake. A competition is a great way to get people excited and passionate about what they're baking and coming to your event.
Advertise the bake sale. One of the best ways to reach a large group of people quickly is through social media. Be creative with posts and invites and remember to include the date, time and venue.
Work out the logistics. Do you need to provide your own tables at the venue? If so, you'll need a tablecloth or something similar. You'll also need to think about practical items, such as packaging – for example, plates for people that want to eat at the venue or takeaway boxes for those who want to take some home with them. You might also want to provide napkins.
Plan transport. If the bake sale involves you travelling with your treats, consider purchasing a container that will guarantee safe transportation.
Pick your prices. Plan how much you will charge for each item to give you less to do on the day.
Take pictures. As well as snapping up the cakes, get snappy with the camera. It's a great way to share the fun.
---
Bake Sale Checklist
To make your bake sale less daunting, and to make sure that you can be confident you've remembered all you need to, we've composed a bake sale checklist for you.
We've divided this checklist into three key areas – what to remember before the event and while you're planning the bake sale, during and lastly, after the bake sale has finished. 

You can download this checklist at the button below:
---
We wish you all the best in your bake sale venture! If you have any further questions about the topics discussed in this article, don't hesitate to get in touch with us at High Speed Training. You can contact our friendly team on 0333 006 7000 or email support@highspeedtraining.co.uk.
---
Further Resources: