Selling Cakes from Home: Do I Need a Food Hygiene Certificate?
August 9, 2019
6 min read
The popularity of home baking continues to rise like a Mary Berry sponge cake, as local community fêtes, charitable events and TV shows all inspire us to pick up a whisk and crack an egg or two. But the questions remain- can I sell cakes from home, and do I need to gain a food hygiene certificate before I can begin? Let's take a look!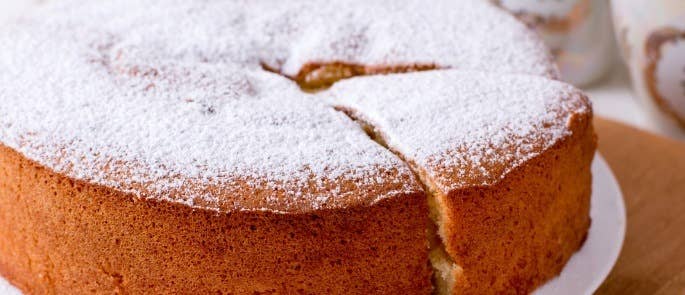 ---
Can I Sell Cakes from My Own Home?
In short, yes you can. However, if you decide to do this as a business, you will need to meet certain requirements as ultimately the public – your customers – need to be kept safe from any potential harm.
The main legal requirements you will face when setting up your home baking business all exist to keep the public safe. You will need to do the following to be permitted to make money by selling your baked goods from home:
Register your business with your Local Authority.
Take the relevant training for food hygiene at home.
Prepare your home kitchen for a visit from the Environmental Health Officer (EHO).
Understand and implement your due diligence and HACCP
Understand the regulations around food allergens and food labelling, and implement these.
Complete a practical assessment of your kitchen as well as the set-up of how you would store ingredients and prepare your goods to make sure you are safe to work in it.
---
Want to learn more about successfully starting your own food business from home? We offer a range of online training courses and, whilst our Level 2 Food Hygiene and Safety for Catering course will cover your hygiene requirements, our Starting a Home Food Business course goes into depth about everything included in this article and more.
---
Many people may think about selling their cakes on social media, such as on Facebook or Instagram, or even start selling homemade cakes to local shops and cafes. They would all need to meet these requirements.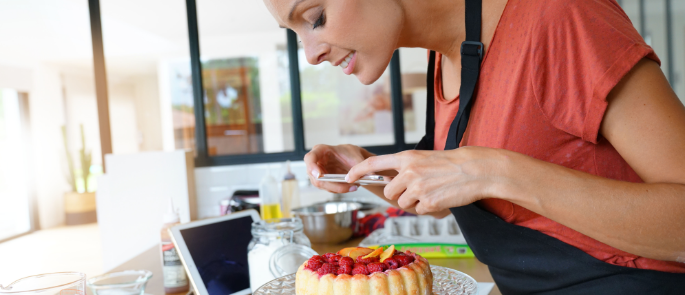 However, there are other people who simply want to bake yummy treats to raise money for a good cause, such as bake sales, summer fairs or charity events.
For these one-off bakers, there is no need to register as a business or have an EHO inspection.
You do, however, need to be aware of allergens and practice good food hygiene in your kitchen, as these will directly impact on the people who eat your delicious cakes.
---
Do I Need a Food Hygiene Certificate for Home Baking?
Whether you register as a business or just bake cakes for fun, any food you produce must comply with EU food law and be safe to eat.
The legal requirement for food businesses is that – "all food handlers should be instructed/trained in food hygiene matters commensurate with their work activity." Achieving a suitable certification in food hygiene will meet this requirement, and ensure that you have good knowledge of the best practices when baking at home.
If you only plan to occasionally bake your cakes on a small scale or ad-hoc basis, you don't need to register as a business, and so you don't legally need to have a food hygiene certificate or provide information on allergens.
You do, however, have to make sure you handle food safely and so you may feel taking a training course would be beneficial to you. It is also recommended by the Food Standards Agency that you communicate any allergen ingredients in your cakes to your customers, such as flour containing gluten.
Declaring allergens is important, because the last thing you want is one of your customers to have their treat spoilt by an allergic reaction, and for you to be held responsible! Take a look at our article on the Big 8 Food Allergies for more information on this topic.
Furthermore, having food hygiene training will help with your due diligence – which is the ability to prove you have done everything reasonably possible to prevent food safety breaches. If you do have a home visit by an EHO, they will want to see that you have a food safety system in place, and that you have the relevant knowledge to prepare food safely. Having a food training certificate is a good way of evidencing this.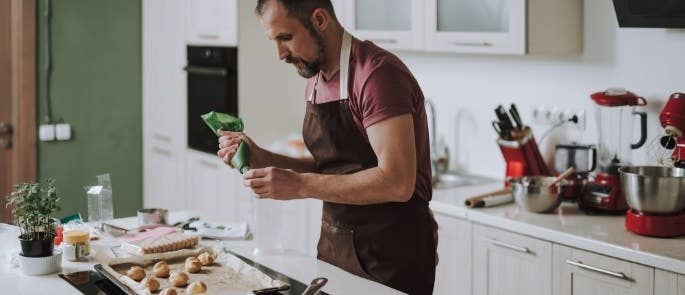 ---
Which Level of Training is Right for Me?
It's difficult to know which level of training you need to do to be covered for your home baking activities. Take a look at the different levels of training we offer to help you decide which one is right for you:
Level 1 Food Hygiene & Safety Certificate – This course is designed for those who work where food is handled, but who are not directly involved in the preparation or handling of it. It is an introductory level training course which aims to give awareness of the basic principles of food hygiene. This course would be suitable for:
Delivery drivers.
Packers.
Those working on a stall at a village fete.
Level 2 Food Hygiene & Safety Certificate – This course is offered in three versions: catering, retail or manufacturing. The one you should take depends on your specific environment, but most home businesses would take the Level 2 Food Hygiene & Safety for Catering version. They each cover the same level of food safety principles and meet UK and EU legal requirements, but are tailored to each environment. A Level 2 Food Hygiene & Safety course will help anyone who handles, prepares or serves food. This could be:
People who make celebration cakes from home.
Those running a catering business.
People who start a food truck business.
Those selling cakes and treats from a market stall.
Level 3 Supervising Food Safety – This course is our most advanced, and is aimed at anyone who is a manager or supervisor in a food business. It would be suitable for anyone who has started a food business from home which has grown. They may now employ additional people to help run the business and may also be considering moving premises to continue their expansion.
---
What Other Training Should I Consider?
In addition to Food Hygiene and Safety training, you may want to consider a HACCP training course. HACCP stands for Hazard Analysis and Critical Control Point and is a food safety system that is essential for any successful food business. Implementing a HACCP system in your home business will show your commitment to food safety, and can help you provide evidence in a due diligence case if necessary.
Food Allergen Awareness would also be useful training, as you should be able to provide information of ingredients, including any allergens that might be in any of your products.
Our Starting a Home Food Business course would be beneficial to any individual who wants to start a food business from home. It outlines the steps you need to take to be legally compliant, the importance of safe food handling practices in your kitchen, how to write your business plan and how to get your products to your customers.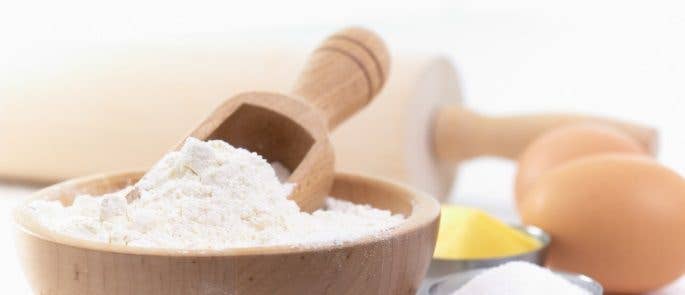 By doing your training online, it will only take a matter of hours, saving you valuable time. Furthermore, when you finish your training and assessment you can download your certificate right away. We will prepare your hard copy and post it the next working day for you to proudly display alongside your baked goods. You can also complete your online training from home, or anywhere you have an internet connection – saving you time to get back to baking!
---
We hope you have found the information here useful but if you become stuck, or have any questions at all, our learner support team is on hand to help you through.
You can contact us by calling 0333 006 7000, or emailing support@highspeedtraining.co.uk.
---
What To Read Next: