Cake Decorations: Which Flowers are Edible?
April 28, 2021
5 min read
Bees, butterflies, birds and now – the cake decorator. Flowers are not simply a means for pollination. Nor are they just an aesthetic reserved for pristine gardens, a vase on the hallway table, or a gaudy print on that shirt your partner loves, that just so happened to get lost in the wash.
The tag #edibleflower, has over 100k posts on Instagram, with the vast majority showing images of showstopping tiered cakes, adorned with a mixture of fresh and dried flora. A whopping 8.5 million results show up when you search #weddingcake and following suit, a large portion of them are covered in flowers.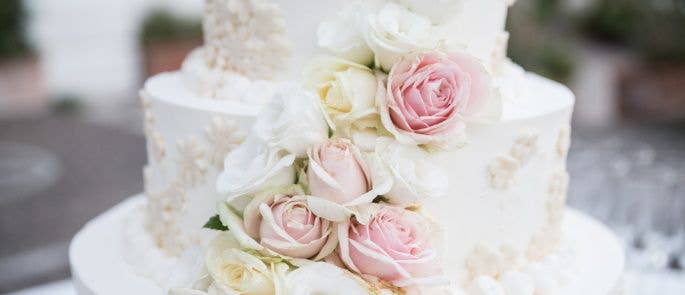 It's really no surprise that this trend has come about, as it offers a simple and elegant decoration for cakes. It also does so at a fraction of the price tag to that of flowers sculpted from fondant – a time consuming and delicate procedure for a cake decorator. Whilst using flowers as cake decor looks beautiful and may seem harmless, this is not always the case. You need to be careful, as some flowers range from being mildly toxic to life threatening if ingested.
This article will outline the different types of floral cake decorations and their potential dangers. We will stress the importance of knowing what flowers and greenery are safe to decorate with, to ensure your cakes are safe for consumption.
---
Is it Safe to Decorate a Cake with Fresh Flowers?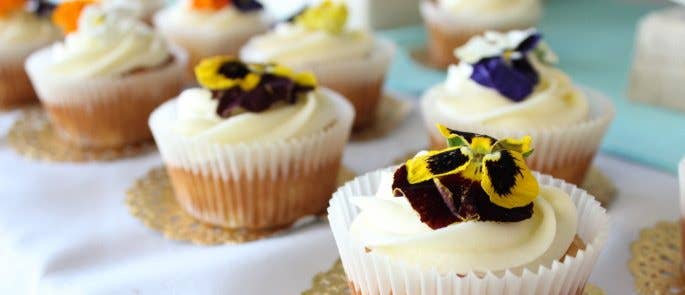 Flowers are a fun and creative way to add vibrancy and colour to cakes. Often used as a decoration method for large celebration cakes, this floral addition is an easy and relatively inexpensive way to make them look professional and stand out.
However, it is very important to remember that not all flowers are edible. In fact, some flowers are highly toxic and if ingested, can cause serious harm.
Home bakers – including those who have recently started their own business – may not be aware of any potential risks.
Flowers are an easy and accessible way to decorate cakes, but you need to understand what does, and doesn't pose a risk, in order to avoid harming consumers.
There are a number of terms you should familiarise yourself with:
Edible – This means that the items are safe to eat and your body will digest it just as it would any other food.
Non-edible – This refers to items that are not fit for consumption – the body will not break them down or digest them.
Toxic – This refers to items which are poisonous and will be very harmful if ingested.
Non-toxic – This means the item is not poisonous, but be careful as this does not mean that it is necessarily safe to eat.
Which Flowers are Toxic?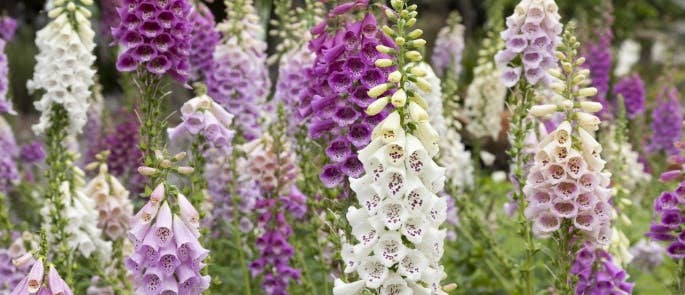 There are many plants and flowers which are toxic and not safe for human consumption. Below is not all, but a brief list of a few you should never consume:
Daffodils.
Poppies.
Bluebells.
Foxglove.
Oleander.
Clematis.
Rhododendron.
Hydrangea.
Lily-of-the-Valley.
You can quite easily go onto a baking website and source edible glitter as it will be manufactured to make it so, however this is not so easy to do with flowers. It is a little harder to walk into a florist and know exactly what is edible and what is toxic.
Take a look at the poster below to give a little more clarity on which flowers are edible and which are toxic.
---
List of Edible Flowers for Cakes
While some flowers are toxic and should not be used, don't let this put you off. There's still a wide variety that are safe to eat, for example:
Hibiscus.
Pansies.
Lilac.
Lavender.
Rose.
Calendula.
Dahlia.
Violas.
Borage.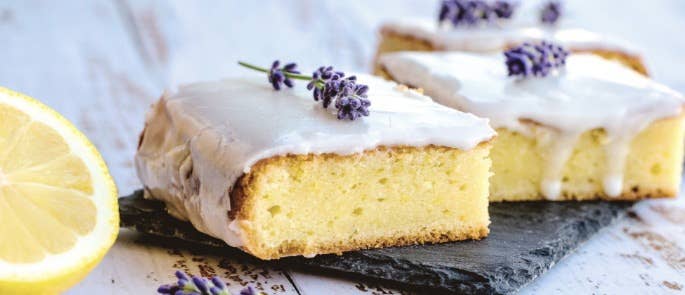 All of these flowers are safe for human consumption, but you must also be aware that in a lot of cases it is just the petals that are edible. This will mean taking a little extra care to remove the stamens and the bitter tasting stem of the petal from the flower. However, if you are planning on using the flowers simply for decoration, and they won't be eaten, you don't have to worry about this.
This goes for non-toxic flowers, too. These may or may not be edible, as they can be tough, fibrous and therefore, unpleasant to eat. In this case, the flowers should be removed before the cake is eaten.
---
List of Food Safe Greenery for Cakes
Greenery is a great way to decorate your cakes in winter when many flowers are out of season. Foliage such as leaves and herbs are a good way to add a rustic and natural look to your cake.
It should be noted that a lot of greenery, whilst non-toxic, should still usually be removed before consumption as they will be quite tough and vegetal compared to the sweet flavor of your cake.
A few examples of safe greenery to use as decorations are:
Borage.
Clover.
Thyme.
Rosemary.
Bay.
Olive leaves.
The safest option for using greenery to decorate cakes is to go with ones that you know are edible. For example, by using herbs. Thyme is delicate and citrusy, so works great on cakes in the summer. Rosemary is more robust with a lovely deep green colour which works particularly well on cakes in the winter. Whilst you could choose to use soft herbs such as parsley and mint, they do tend to wilt quickly, so may not work well on celebrations cakes such as those for weddings as they will be stood out for some time before being eaten.

Many images of greenery on cakes online include the use of eucalyptus, however this is not a food safe greenery and will cause harm if ingested. This shouldn't be used to decorate, even if you plan to take it off before the cake is eaten.
---
Safety Tips for Using Edible Decoration Flowers
As a rule of thumb, it will always be safer to not use any flowers or greenery if you are not completely sure that they are edible and safe to consume.
You should also know that the flowers you have selected have been grown organically, because even if a flower is edible, it will not be safe to eat if it has been sprayed with pesticide – this is a chemical hazard and can cause you serious harm. If you cannot guarantee pesticide-free flowers, you must ensure they're thoroughly washed before they come into contact with food.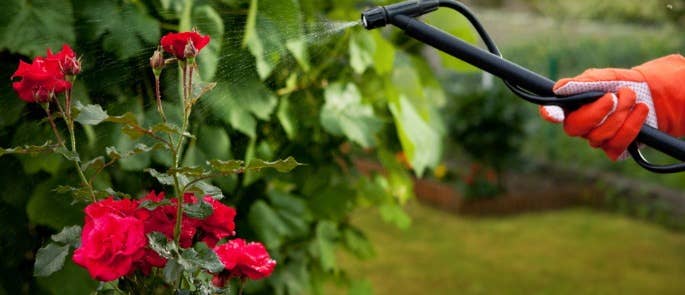 Now we don't want to scare you off, it's not all doom and gloom and chances are, you won't be putting a highly poisonous flower from the heart of the jungle on your wedding cake. However, it is essential that you have all the knowledge and understanding to reinforce your decisions as to which flowers you use.
If you are making cakes for others, and decorate using flowers, having this knowledge will reflect well on you and your business. Being able to talk your customers through the flowers you have used will give them reassurance that they are safe to eat.
---
We hope you found this article helpful. For any more information feel free to get in touch. High Speed Training offers a wide variety of courses and resources that can help.
---
Further Resources: