How to Start a Cupcake Business
June 16, 2023
15 min read
Cupcake businesses are a hot topic and it's easy to see why. With low start-up costs and room for big profit margins, setting up your own cupcake business is a dream that many have turned into reality. And, of course, who could forget the hysteria caused by the UK's Great British Bake Off every year.
If you have a passion for baking, then why not make it into a career? With all this entrepreneurial success surrounding baking, it's no wonder cupcake businesses are booming – some reports have stated that there has been a 230% increase in home baking businesses in recent years.
In this article, we will take you through everything you need to know about starting your own cupcake business. We'll outline the benefits, explain how to write a business plan and detail everything you'll need to get started. Finally, we'll explore some of the marketing strategies you can use to promote your business.
---
---
Why Start a Cupcake Business?
Even in an economy where cash-flow is slow and people have less money to spend, cupcake businesses are still taking off. Cupcakes are seen as a luxury product but, with their small price tag for consumers, they're the ultimate feel-good purchase that won't break the bank.
Some of the benefits of starting a cupcake business include:
Low start-up costs. The start-up cost of a cupcake business can be as little or as much as you like. There are certain elements that you'll need to have, but overall, the start-up costs are much lower than other businesses.
Creating your own working schedule. While you may need to work longer hours to begin with, once you're established, you'll be able to dictate when you want to work and which jobs you decide to take on.
The business can be run from home. Along with choosing your own hours, you'll be able to work exclusively from the comfort of your own home.
The ability to be creative in your job. You'll be in charge of choosing what you produce, how you do that, and what it looks like.
Diversification opportunities once the business takes off. The opportunities to expand into further markets are endless. If you want some inspiration, check out our article: 'Ideas for Starting a Food Business from Home'.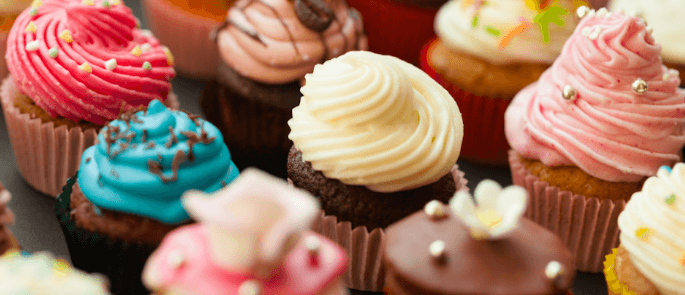 Is a Cupcake Business Profitable?
Cupcake businesses can be extremely profitable. This is partly due to the low start-up costs – starting your business can be as expensive or inexpensive as you want it to be. There's no need to upgrade or buy new equipment unless you feel the need to – but we'll look into the specifics of what you'll need later in the article.
As the money you'll need to invest to get started is minimal, you'll turn a profit much faster than other businesses. Cupcakes are also inexpensive to make, in terms of the amount of ingredients needed to create each one, but they have a high profit margin. Even if you set a reasonably low price point for your cupcakes, you'll make a profit on each one.
By running your business from home, you're also avoiding extra utility costs from owning a café, restaurant or shop. This allows you to enjoy the majority of the profits you make.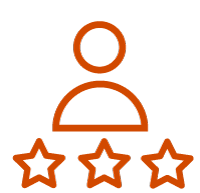 Want to Learn More?
Our Starting a Home Food Business course explains the fundamental steps you need to take in order to comply with the legal requirements and food safety regulations. It also covers how to write a business plan, conduct market research and ways to promote your business.
Back to Top
---
Cupcake Business Plan
Once you've decided that you'd like to start a cupcake business, the first thing you need to do is research the market.
Market research will help you to identify several key areas that are important to focus on if you want your business to be successful. It will help to identify who your target audience is, what they are looking for, how often they want it, how much they are willing to pay for it and whether you will have any competition.
Things that you need to find out during the market research stage include:
What kind of cupcake business are you going to open?
Which recipes will you use? Have they been tested?
Who are you customers and what is their demographic?
Will you sell your products online, in a shop or both?
Will you sell just cupcakes or full-size cakes and tray-bakes too?
Will you be a catering or retail business?
Are there any local events that you can sell your cupcakes at?
Will you rent or buy premises outside your home? Where will this be?
Will you have a delivery option? What are the costs and demand for this?
Is there any existing competition? What do they offer?
Do you need any insurance, certificates or licences to operate the business?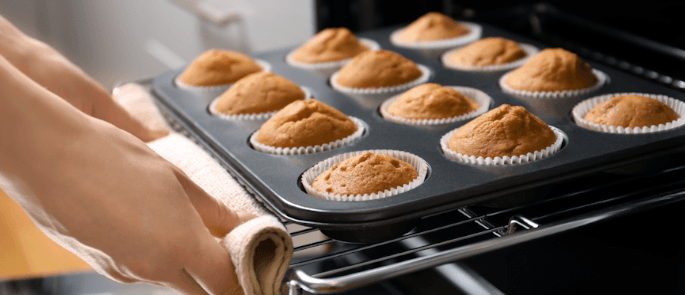 How to Write Your Business Plan
Every business needs a plan. The idea is that you write down, in one document, everything about the business to make your opportunity sound as attractive as possible to potential business partners and financial lenders. It also helps you to keep a focus on what your business objectives are so that you completely understand what you are aiming towards and how you are going to get there.
Writing a business plan doesn't have to be a complicated job and, for a small cupcake business, it doesn't have to be very long. As long as you get all the key information written down in a logical order, then your business plan is good to go.
Topics to include in your business plan are:
The name, address and contact details of your business.
Information on the management of the business; who's in charge?
Your company's Mission Statement: in one sentence, summarise the aim of your cupcake business.
Where you will operate from; where is your office or kitchen, how big is it and what are the overhead costs involved?
Your start-up costs; what equipment do you need to buy? Do you have any insurance or training to pay for?
The everyday costs of the business; how much will you spend on ingredients and overhead costs on a weekly or monthly basis?
Funding and financial projections; where do you plan to get the money from to start the business and what are your projected profits/losses for the next month, year, 2 years, etc? How will you maintain the cash-flow?
Will you work on the business full-time or alongside your day job?
Does your business have any competition and what are the features or benefits of your own business that will make it stand out?
What is your marketing strategy?
Do you have the logistics in place to deal with delivery, customer service, insurance, etc?
Start your business plan in a word-processor document on your computer, grab a notebook or bring up a new page on your tablet – it doesn't matter where!
We've put together a simple template that you can use to get you started:
Back to Top
---
What Do I Need to Start a Cupcake Business?
Once you have organised your business plan, it's time to focus on making sure that your business will be legally compliant.
Selling food online without the proper registration or other legal requirements in place can have dire consequences not only for business owners, but for the health, safety and wellbeing of your customers.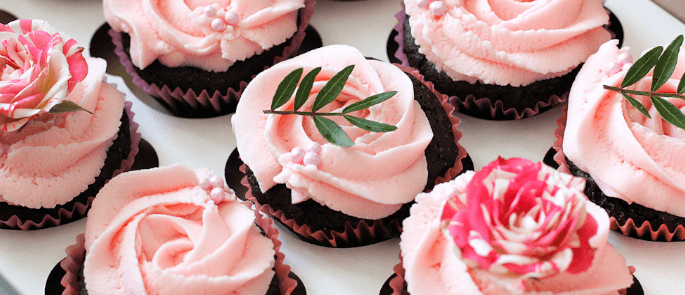 Register your Food Business
According to the Government, anyone who is regularly selling food must register as a food business through their local authority. On the Government website, you can input your postcode and this will direct you to where you need to apply. This licence is free to obtain, and cannot be refused.
However, you must register as a food business at least 28 days before trading. If you are already trading, you must register as soon as possible.
Trading without proper registration can result in a fine or prison sentence of up to two years.
You must also register with the Government as a sole trader in order to complete a self-assessment tax return each year. The Government classes anyone who is self-employed as a sole trader.
Food Hygiene Training
Once you have completed the necessary registration, you will receive a visit from the Environment Health Office (EHO) within 28 days of submitting your registration form. The EHO will ensure that you are compliant with all the relevant food hygiene legislation and are therefore safe to be trading.
During the inspection, EHO inspectors will assess three areas of your home food business:
The physical condition of your premises. This means measuring your cleanliness, and whether you have suitable ventilation and pest control measures.
Food hygiene. This involves ensuring that you and any employees have safe preparation methods, cooking and storage of food, and making sure you know how to safely cool or reheat your products.
Food safety. This means inspecting the precautions you have in place for this, such as having a food safety management system implemented and used. HACCP (Hazard Analysis and Critical Control Point) is an example of this. You can find more information on HACCP in our article here.
Once they have completed their inspection, the EHO will issue you with a food hygiene rating. If you'd like to learn more about what to expect from an EHO visit, you can do so in our article, here.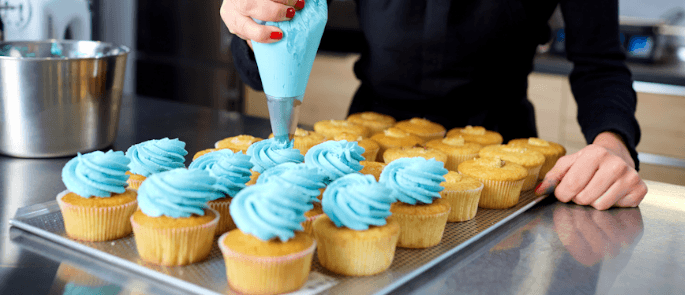 Food safety is immensely important, and you must do everything in your power to ensure that you follow all the guidelines. By law, all food handlers must have an understanding of the basic principles of food hygiene and know how to protect the food they serve from contamination.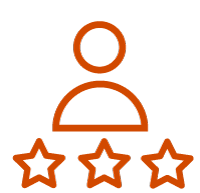 Need a Course?
Our Level 2 Food Hygiene and Safety for Catering training course is designed to help learners understand the basics of food hygiene so they can work safely, comply with the law, minimise contamination and ensure the food they handle is safe for consumers to eat. Our range of HACCP courses cover everything you need to implement an effective food safety management system.
Allergens
A vital part of food safety is having a sound knowledge of allergens. All food businesses have a duty to protect their customers from the risks allergens can present.
Any food has the ability to cause an allergic reaction, however, certain foods are more likely to cause a reaction than others.
There are 14 named food allergens which, by law, must be declared if they are used as an ingredient in a food product.
Conducting an allergen risk assessment is a key way to ensure you are complying with regulations. As you are legally required to provide allergenic information on your products, an allergen risk assessment may be the easiest way for you to identify where allergens occur in dishes, where the risks of cross contamination are and how you can best mitigate the risk. We have created a free, downloadable allergen risk assessment which you can find here.
We also have free and downloadable allergen labels for you to use. These are quick and easy ways to communicate allergens with your customers and reassure them that you are dedicated to food safety.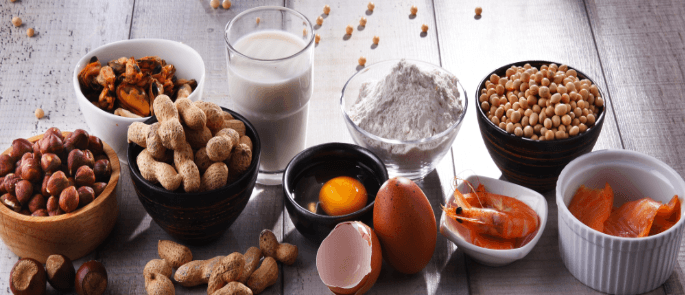 Food Labelling and Packaging
Food labelling is another crucial part of food safety. There are regulations regarding certain information that must be displayed on labels, and also specific allergen regulations for distance sellers. Distance selling is the indirect selling of products rather than directly to customers over a counter or face to face. Therefore, if you're selling food online – via a Facebook or Instagram page, for example, you are a distance seller.
You must be able to provide allergen and intolerance information for your customers, especially with the introduction of Natasha's Law, including any 'may contain' cross-contact allergens which you also handle. To find out more about precautionary allergen labelling, check out our article, here.
You'll also have to decide how you're going to package your cupcakes, and which materials you'll use. For more information, check out our article: 'What are the Different Types of Sustainable Food Packaging?'.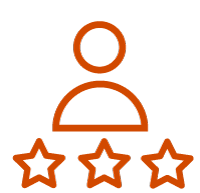 Food Allergen Awareness
Our Food Allergen Awareness training is designed to help food handlers identify and label allergens in order to ensure their customers remain safe from harm.
Equipment Needed for Cupcakes
It's also vital that you have a well-equipped kitchen before you can open your cupcake business – even if you're planning to bake at home rather than in a commercial kitchen.
Here are our Top 10 Essentials for all cupcake makers:
A good quality food mixer.
Non-stick cupcake trays (enough to do at least 2 batches of cupcakes).
Digital scales for accurate measuring.
Cooling racks.
Measuring spoons for accuracy of ingredients.
Mixing bowls.
Wooden spoons.
Rubber spatula for easier handling of cake mixture and icing.
Cupcake cases.
A good oven.
When it comes to deciding what you'll need to decorate your cupcakes, check out our article for inspiration: 'Cake Decorations: Which Flowers are Edible?'.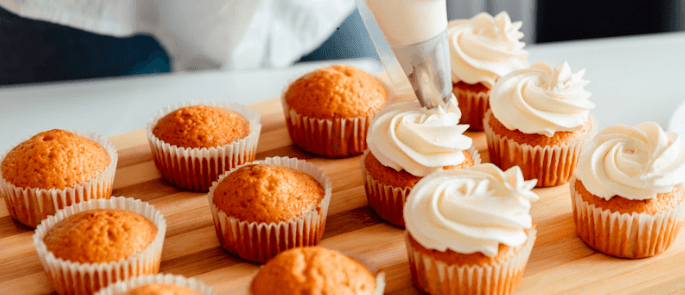 Back to Top
---
Marketing Strategy for Cupcake Business
So you've got all the planning, practising and legal arrangements out of the way, now it's time to begin outlining your marketing strategy.
How will you sell your cupcakes? How will you get the word out so that people know who you are? Advertising is key for the promotion of your business.
Think about what kind of media you want to use for your marketing; are you trying to project a particular kind of image to your target audience?
Traditional marketing options include:
Advertising on websites or having your own website.
Word of mouth.
Handing out free samples.
Designing business cards and letterheads.
Holding a stall at trade shows or fairs.
Using signage and packaging with your logo on.
For more ideas, check out our article: 'How to Market your Food Business Online'.
Marketing your Business on Social Media
Approximately 53 million people in the UK are currently using some form of social media, and marketing and social media go hand-in-hand. Social media offers you the opportunity to promote your brand to a wider audience much faster than traditional marketing could. This is important because getting brand recognition is one of the most vital goals in marketing a business.
Home food businesses – especially those who are just getting started – might be put off with the cost of traditional marketing. However, social media is available to everyone, regardless of their budget.
Social media is flexible, too. Most people in the UK possess some kind of smartphone. This means you can have all of your social media accounts linked to your phone, so you can post and comment at any time of the day. Not only are you able to reach your current audience by creating a social media account, but you are also able to reach potential customers that you might not have otherwise.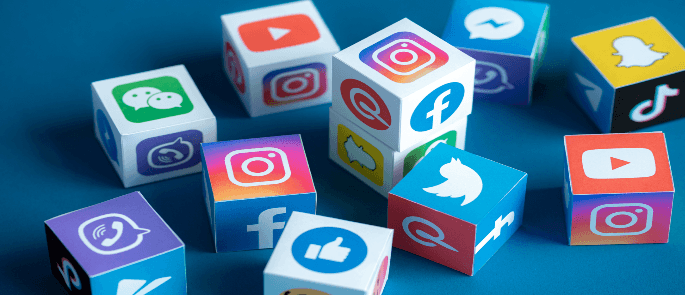 With a plethora of increasing social media platforms out there, it can be confusing as to which you should use. After all, every platform is slightly different and appeals to a certain type of demographic. They each have their own unique style and benefits. However, not every platform will suit the brand you're trying to build.
It might be helpful to explore each of these platforms in order to work out which one will suit your business and brand the most.
We have articles dedicated to exploring marketing on specific social media platforms which you can find in the list below:
Back to Top
---
We wish you all the best in your cupcake business venture! If you have any further questions about the topics discussed in this article, don't hesitate to get in touch with us at High Speed Training. You can contact our friendly team on 0333 006 7000 or email support@highspeedtraining.co.uk.
---
Further Resources: