Calorie Labelling on Restaurant Menus
August 23, 2021
5 min read
In the UK, one in five meals are thought to be eaten out of the home. Though this regulatory addition to the UK government obesity strategy will not affect smaller food businesses; those wanting to create a healthy eating environment may consider providing this information to their consumers. This article will discuss what calorie labelling is and why it is a good idea.
---
What is Calorie Labelling?
A 'calorie' is a unit of energy. In food and drink, it refers to the amount of energy the product contains. It can also be used to calculate how much energy an individual requires on a daily basis, for normal functioning and for physical activity.
In general:
Individuals wanting to lose weight need to eat fewer calories than they use, resulting in a calorie deficit.
People wanting to maintain their weight need to eat the same number of calories that they use.
Individuals gaining weight eat more calories than they are using, resulting in the excess food being stored as fat in the body.
Providing calorie information to consumers will enable them to more accurately track the amount of energy they are consuming. Pre-packed foods are required to provide calorie labelling in calories (kcal) and kilojoules (kJ). A kilojoule is another way of measuring a unit of energy. The conversion of calories to kilojoules is multiplying the calories by 4.2 to get the equivalent in kJ.
The energy and nutritional information might be displayed per 100g, in which case the consumer will need to calculate the nutritional values based on the declared weight of the product. For this reason, consumers prefer to know the values per product, and are likely to view only displaying 'per 100g' as a lack of transparency. Food labels on pre-packed products are a legal requirement and they are important for many reasons, read our article to find out more about why food labels are important.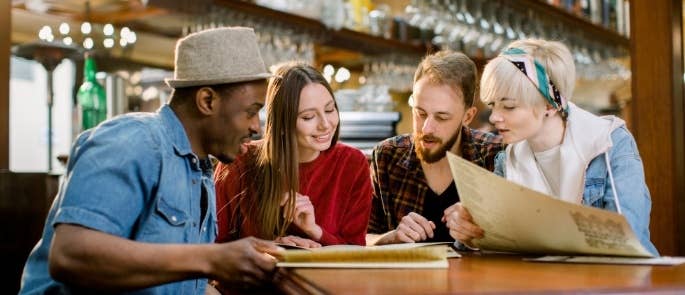 The NHS provides information on the calorie intake an average individual in the UK requires to maintain a healthy weight. Factors that affect an individual's energy requirements include: sex, height, weight and physical activity.
The average man requires 2,500 kcal (10,500 kJ) to maintain a healthy body weight.
The average woman requires 2,000 kcal (8,400 kJ) to maintain a healthy body weight.
---
What is the New Menu Calorie Labelling Law?
New UK government regulations requiring large hospitality businesses to display calorie information on menus and food items, has come into force for April 2022. Calorie labelling on menus and food products is designed to give the consumer the most 'informed decision' possible and hopes to aid the reduction of obesity.
This new law will affect cafes, restaurants and take away food business operators with over 250 employees. The government encourages smaller businesses to provide calorie labelling voluntarily. They have also not ruled out the possibility of extending the legislation to cover all food business operators in the future.
Some large restaurant and cafe chains have already shared calorie information with customers, either via their website, on an app or on their menus. Uber Eats are trialling adding calories to menu items on their app ahead of the rule change. Wetherspoons were the first pub to also provide calorie information for their drinks as well as their food items.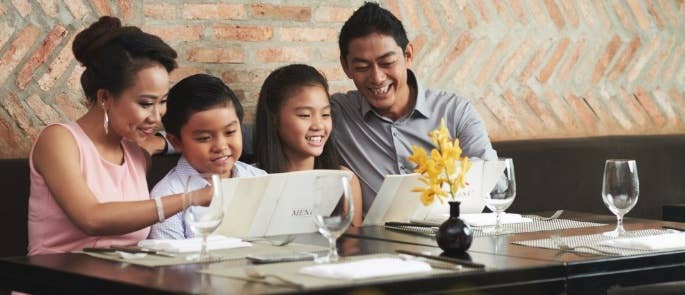 Using a Restaurant Calorie Counter
The Food Standards Agency in Northern Ireland developed a free tool, called 'MenuCal' for food businesses. MenuCal calculates the amount of energy and the allergen profile of a menu item. This tool enables food businesses to comply with not only the new calories on menu regulations, but also Natasha's Law. Natasha's Law requires all foods which are pre-packed for direct sale (PPDS) to have a full ingredient list including allergens. 
Allergen information is also legally required to be available to customers. For menu items sold via distance selling – such as on an app or on a website – allergen information must be provided at the point of sale and on delivery of the product.
In order to accurately calculate the number of calories within a menu item, you first must know the exact weights and quantities of the ingredients. Therefore, it is easier and more time efficient for businesses with a consistent menu to calculate and display calories on a menu.
---
Why Should Restaurants Post Calories on Menus?
According to a Scottish FSA government survey, 66% of consumers said that they would prefer to have calories on a menu. It enables customers who would like to track the amount of calories they are consuming to do so with ease. It also gives consumers the ability to compare menu items so they can make a more informed decision. A salad might sound like the healthier option on the menu, however, if the dish has a calorific dressing it may have more calories than other items on the menu.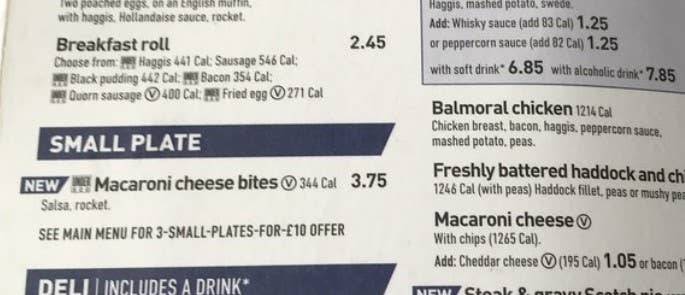 Menu Labelling Effectiveness
For customers who do not check or compare calories, calories on a menu can still inadvertently have a positive impact. It forces restaurants to evaluate the healthiness of the menu items, which could lead to: 
Reformulation. 
Healthier swaps. 
A reduction in portion size.
Changing the method of cooking to a healthier alternative.
Reformulation could simply be swapping a regular ingredient for their 'reduced' or 'low' counterpart. It could also go as far as starting the recipe from scratch, in order to reduce sugar or saturated fat. Other healthier swaps could include swapping mushy peas for garden peas or changing french fries to a chunky chip (as a chunky chip absorbs less oil in the cooking process). If the food business does not wish to change the meal, they could reduce the portion size, allowing consumers to eat the same dish but in moderation.
Changing the method of cooking also has a big impact on the calories within a meal. Deep frying is one of the unhealthiest methods of cooking as it increases the calories and saturated fat content. There are several alternatives to this such as:
Oven cooking.
Pan frying.
Flash frying for a short amount of time (to pick up the deep fried flavour) and finish cooking in the oven.
Steaming until fully cooked and then finishing off for a short period of time in the deep fryer.
The
BBC reported
on the criticism a pub chain 'Hungry Horse' received about the calorie content of their offering. Many felt it was irresponsible of the pub chain to have menu items that contained 100% or more of the recommended daily calorie intake. That is not including any drink, starter, side or dessert which might have been ordered with the meal. Another menu item at the time of the report, a pulled pork burrito, declared that it had 3,500 calories. That is 1,000 calories more than a man's daily recommended allowance!
---
Tackling Obesity
The primary reason that the UK government is mandating calories to be displayed on menus is to tackle obesity. A 2019 government survey found that 36% of adults are overweight (a BMI between 25 and 30) and a further 28% are obese (a BMI of over 30). That means on average, 64% or two thirds of adults in 2019 were heavier than what is considered to be a healthy weight. 
The lockdown starting in 2020 has worsened these statistics. Takeaway apps and snacks saw a huge increase in sales over that time period. An increase in consumption of unhealthy foods combined with a reduction in physical activity is suggested to have added half a stone to the average person. 
The World Health Organisation (WHO) state that globally, 'at least 2.8 million people die each year as a result of being overweight or obese'. Obesity increases the risk of several life threatening diseases, including diabetes, high blood pressure, high cholesterol, heart disease and some cancers. 
Individuals with these conditions are at an increased risk of hospitalisation and severe symptoms if they contract Covid. Therefore, part of the UK's Covid response included an obesity strategy. The Prime Minister Boris Johnson claims that he experienced worsened Covid symptoms and hospitalisation as a direct result of being overweight and has since taken steps to reduce this weight to improve his health. Obesity can also affect every aspect of health such as reproductive health, respiratory functions, memory and mental health.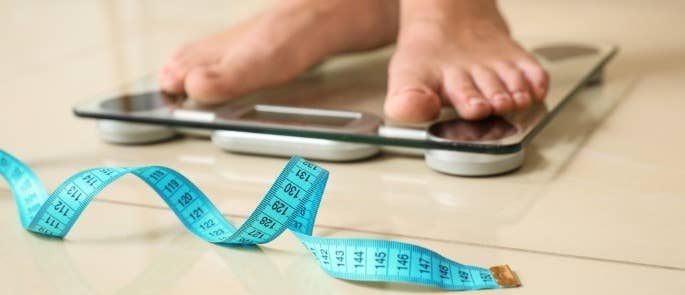 The UK Government's Obesity Strategy
The sugar tax, which taxed soft drinks high in sugar, has proved to be a success of the obesity strategy, resulting in a decrease in sugary drink purchases. Drinks manufacturers also reduced the sugar content in their drinks to avoid the tax, which has also decreased consumption. Low and zero sugar drinks saw an increase in sales, showing that the price difference drove a behaviour change in consumers. 
To tackle childhood obesity, a set of standards and regulations for school meals were created to help schools provide healthier options. Change4life was the first national health campaign in England designed to tackle obesity appealing to many families. Change4life has a website with healthy recipes and advice. The health campaign also has a Smart Recipes app and a Food Scanner app to advise on sugar intake. Other government funded health apps include an NHS 12 week weight loss plan and a 'Couch to 5K' running app for beginners. 
By the end of 2022, new regulations on advertising foods high in fat, sugar and salt (HFSS) will come into effect. The hope is that there will be a reduction in consumption of these foods, and it will incentivise manufacturers to reformulate and create healthier products.
---
We hope you found the above information useful. Should you wish to discuss your business needs further, or would like to know more about how our training can help you, please contact our friendly, helpful sales and support teams on 0333 006 7000 or email sales@highspeedtraining.co.uk.
---
Further Resources: