How to Package Food for Shipping
October 6, 2021
5 min read
Postal and courier services enable businesses to send their products almost anywhere in the UK or world. The pandemic has seen both an increase in demand for foods that could be delivered, and in new food businesses started from home. There are many foods you can send through the post. The packaging you use to ship products is the difference between a safe, high quality product and one that arrives unsafe and unappealing to your customers.
This article will explain how to identify products as high-risk or low-risk, and cover the relevant regulations. We will also share some tips and ideas on packaging food for delivery which can help you mail food safely.
---
This article covers the following:
Use the links above if you'd like to jump to a certain section of the article.
---
What are the Food Delivery Regulations?
By law, all food must be delivered to consumers in a way that ensures it doesn't become unsafe or unfit to eat.
Any updates or changes to the process or your product must be documented within your Food Safety Management System and HACCP (Hazard Analysis Critical Control Point) plan. This includes adding a delivery method such as by post or courier.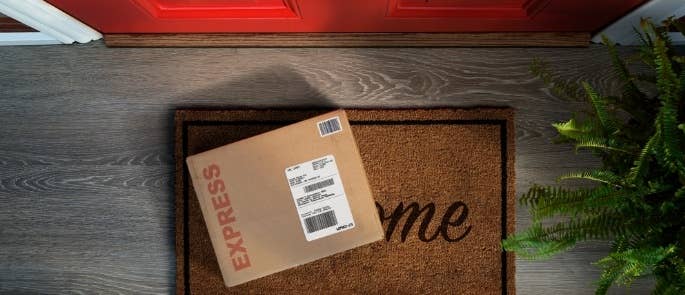 Distance Selling & Allergen Regulations
Foods ordered on a website, over the phone, through an app or by mail order fall under the 'distance selling' category. Distance selling regulations require allergen information to be provided both before the sale and on delivery of the product.
If the food product sale is through a website, it is good practice for the customer to not be redirected to another manufacturer's web page. For more information, read our articles on Allergen Regulations for Takeaways and Distance Sellers and Food Allergen Labels: Free Download & Advice.
Natasha's Law will not affect distance selling businesses because this information should already be provided to customers.
Having a clear allergen list on your website, app or catalogue will help boost the customer's confidence in your food safety practices. If you can't avoid cross contamination of allergens, then you should make your customers aware that you cannot create an allergen-free product.
For example, a brownie business that makes peanut butter brownies should include a 'may contain peanuts' statement on all other brownies made in the same premises. Similarly, a 'peanut free' statement cannot be used in this scenario. For advice on how to avoid allergen cross-contact, read our article on What is Cross-Contact?
To reduce the risk, make sure you do everything possible to prevent allergenic cross-contamination, such as:
Using clean utensils.
Regularly washing your hands.
Storing ingredients and prepared foods separately.
Keeping allergenic ingredients and products separate from other ingredients.
Perishable Foods
Perishable foods often need to be kept refrigerated at all times to prevent them from spoiling and becoming unsafe. Legally, food items which must be transported under refrigeration should be stored below 8 °C – though it is best practice to store chilled foods below 5 °C. This is called the 'cold chain'.
Postal services, couriers and warehouses are unlikely to be temperature controlled; therefore, the cooling methods must keep the product cool in all weather conditions. Equally, if the consumer is not at home when the product is delivered, the package may be left on the doorstep in full sun or rain. This must be accounted for when working out how many ice packs to put into your packaging and what materials to use. Next day delivery is essential for maintaining the cold chain. In warm weather, ice packs are unlikely to keep your product at a safe temperature for more than 24 hours.
To read more, The Food Standards Agency also provides guidance on food safety for food delivery.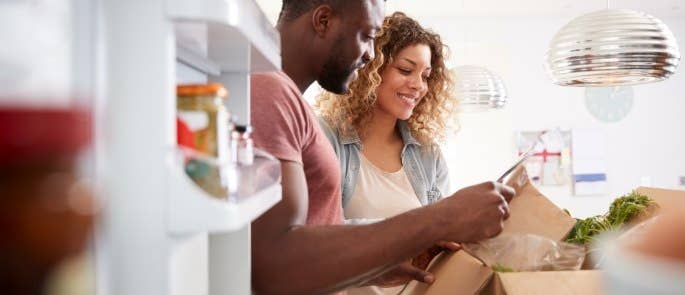 HACCP Documentation
If the product has cooking instructions for the consumer that are comparable to a full cook, it may be considered low-risk. However, you must have validation procedures to demonstrate that the cooking instructions will heat the product to the correct temperature for the correct amount of time.
Perishable and non-perishable items must be shipped in robust packaging to prevent tears. This is because damaged packaging could attract pests, affect the quality and integrity of the product and may affect the maintenance of the cold chain. Packaging that can be easily damaged is also likely to result in complaints, bad reviews and costly refunds. Try testing how sturdy your packaging is by dropping it from a height, stacking heavy objects on top of it or throw it over a fence. All of these tests can be documented as part of your due diligence.
Due diligence is being able to prove that your business has done everything reasonably possible to prevent food safety breaches. Following and recording a suitable HACCP system is an effective way to evidence this, and can be your primary defence against legal issues under the Food Safety Act 1990.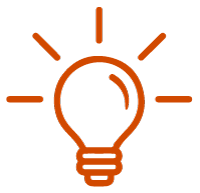 Interested in Food Safety?
Take a look at our food hygiene library where you can find Food Hygiene and Safety training and HACCP courses. These can help you to feel confident in your responsibilities towards food safety and food hygiene.
---
Which Foods Can I Send in the Mail?
Non-perishable foods can be sent in the mail; however, perishable foods have tighter restrictions on how they need to be packaged and shipped. This applies to items that require refrigeration such as:
Meat.
Dairy products.
Fresh fruits.
Vegetables.
Perishable foods items cannot be sent internationally. Brexit has also contributed to difficulties in shipping to EU countries due to extended delivery times and paperwork.
Bacteria need food and moisture to multiply. They prefer food that is moist and rich in protein. Food can be divided into two categories: low-risk and high-risk.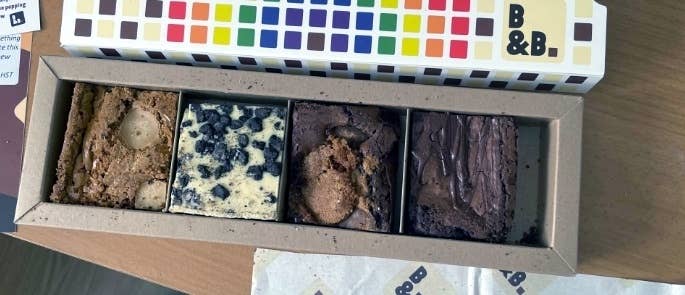 High-risk Foods
Foods are considered high-risk if they support the growth of harmful bacteria, and will not undergo any further treatment to destroy it (ready-to-eat). High-risk foods must be stored under refrigeration. Raw foods must always be kept separate from ready-to-eat foods. This applies to food in storage and preparation areas.
Examples include:
Cooked meat and poultry.
Smoked salmon.
Prepared salads and vegetables.
Dairy products, such as milk, cream and cheese.
Meat gravies, sauces, pâté and meat pies.
Foods made with uncooked egg, such as mousse and mayonnaise.
Seafood, such as cooked shellfish, prawns and oysters.
Cooked rice and pasta.
Low-risk Foods
Bacteria are not able to multiply in dry food or food that has high concentrations of sugar, salt, or acids like vinegar, lemon juice, or sulphites. These foods are categorised as low-risk.
Low-risk foods are normally stored under ambient conditions and do not need to be refrigerated. Examples include:
Sweets.
Pickles.
Honey.
Jam and preserves.
Syrups.
Vinegar
Flour and dried pasta.
Whilst it's important to understand which foods you can and can't send in the mail, it's also important to know how to mail food safely.
---
How to Mail Food Safely
The post office allows perishable food items to be shipped within the UK providing these criteria are met:
Items must at a minimum be sent 1st Class as they aim to deliver items the next day, including Saturdays.
The items should be able to withstand a journey of up to 48 hours without the use of dry ice or frozen water.
The items must be suitably sealed to prevent them from leaking or tainting other items. Sealed vacuum packs are suggested as a suitable packing method to prevent this from occurring.
Items must be packed in strong packaging such as a corrugated board box or polystyrene pack.
The sender's name and return address must be clearly visible on the outer packaging.
Packages containing perishable items must be clearly labelled as "PERISHABLE".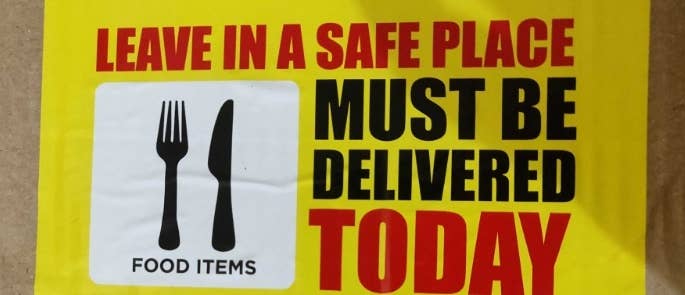 You could be held liable for damage to other mail if yours is not properly packaged.
If you would like to send your parcel by courier, it is best to check their list of prohibited items beforehand. This is because most couriers prohibit sending perishable food items in the mail. Using clear labels on the outside of your packaging will also help those handling it and receiving it to keep the contents safe.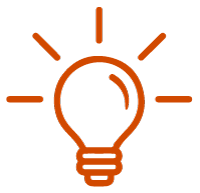 Starting a Home Food Business?
Take a look at our Starting a Home Food Business course. This comprehensive course provides step by step guidance for everyone starting a food business from home including your legal responsibilities.
Food businesses often use coolant gels or ice packs combined with insulating packaging to ensure the products remain at a safe temperature whilst being transported. If products are delivered hot, they must be hot held above 63 °C.
To test the effectiveness of your cooling method, use a temperature probe to verify that your product remains below 8 °C in a variety of outside temperatures. To help, we have created a free core temperature log sheet and fridge temperature log sheets to add to your HACCP documentation.
CASE STUDY – Shoryu Ramen Meal Kit
Shoryu Ramen created a meal kit for customers to make at home. Each ingredient is wrapped individually in biodegradable plastic and insulated with a bubble postage bag and cool packs. The outer layer of packaging is a corrugated cardboard box with labels indicating that the box contains food, must be left in a safe place and it must be delivered that day. Next day delivery ensures the cool packs maintain their function until the food can be refrigerated when it reaches the customer.
CASE STUDY – Courtyard Dairy Cheese
The Courtyard Dairy primarily sells a wide array of cheeses. In order to keep the cheeses at a safe temperature, they use cool packs and straw for insulation, protection and it looks really effective as decoration! The outer box is made out of corrugated cardboard which means the majority of the packaging is compostable or recyclable.
CASE STUDY – Farmison & Co. Meat
Farmison & Co. are online butchers. They ship meat fresh in their specially designed stay-chilled packaging which means it can be put in the freezer when it arrives if the customer desires. Ready-made items, such as their beef wellington are frozen and defrosted in transit, this means it cannot be refrozen upon arrival. Freezing items before shipping is another way to ensure the cold chain is maintained. Their specially designed packaging is made up of an insulating polystyrene box, cool packs and an outer corrugated cardboard box.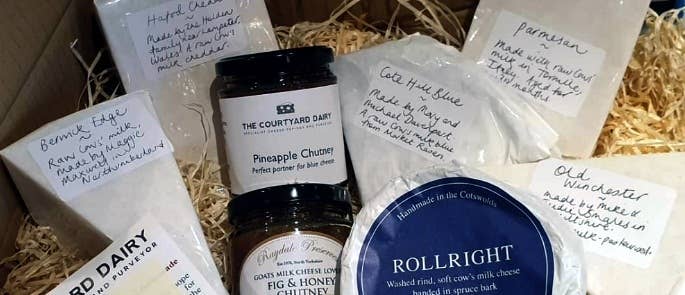 ---
Homemade Food Packaging Ideas
The part packaging plays in the safety of food during shipping can't be overlooked. It is a vital part of ensuring the product arrives in perfect condition and safe for human consumption. In order to transport chilled foods safely, the packaging must be strong, contain sufficient insulation and cool packs to maintain the cold chain.
Effective insulation materials include styrofoam boxes and sheets, bubble wrap and air filled liners. These options might not fit with a more eco-conscious brand. If you are looking for more sustainable materials, consider using wool, straw, recycled paper or packing peanuts made from starch for insulation.
Consider also if the food will come into contact with your shipping materials. If so, are those materials food safe? Is an additional piece of food safe packaging needed if you cannot prove the shipping materials are safe for food contact?
Look for a food safe symbol or indications that the packaging and cooling methods are safe to be in contact with food items. Consider reading our article on Food Packaging Materials: Regulations & Different Types to find out more.
Ordering online has many convenient benefits to the customer – your outreach can be so much further than if your products were just sold in a bricks and mortar store. The downside, however, is that customers do not get the same experience online as they would in a store. Packaging can not only be functional, but also provide and make up for that unique experience. 'Unboxing' videos and images are ubiquitous on social media. This is because people buying a gift for themselves or receiving one from others want to share the moment and feeling of opening a present.
Visually appealing packaging can help convey your brand values, and if your customers think it is worth sharing on social media, you will also get some free advertising too!
Although it is generally acceptable to sell and ship your homemade food, it's important to have an awareness of the relevant regulations and food safety measures you should adhere to through the process including making the product, packaging and shipping it.
---
We hope you found the above information useful. Should you wish to discuss your business needs further, or would like to know more about how our training can help you, please contact our friendly, helpful sales and support teams on 0333 006 7000 or email sales@highspeedtraining.co.uk.
---
Further Resources: