3 Times Nike Ambushed the Olympics
March 29, 2016
3 min read
Ambush marketing is a strategy where brands that aren't official sponsors infiltrate an event to market themselves.
It's, uh, pretty tactical. And, now pretty illegal. And, Nike are the unofficial masters of it.
It's also smart marketing because it's a lucrative way to capitalise on big sporting events. First off, it helps brands to sell themselves as rebels. It saves money because companies don't have to fork out the dollars for official sponsorship and it cashes in on media hype.
Here are three examples that show how Nike's marketing team win gold at the Olympic Games (every time!) for their controversial ambush marketing tactics.
---
1. The 1992 Barcelona Olympic Games
In 1992, the U.S basketball 'dream team' went to the Summer Olympics in sunny Barcelona.
Media controversy reigned when Michael Jordan, the face of Nike, used an American flag to cover rival company and official sponsor Reebok's logo.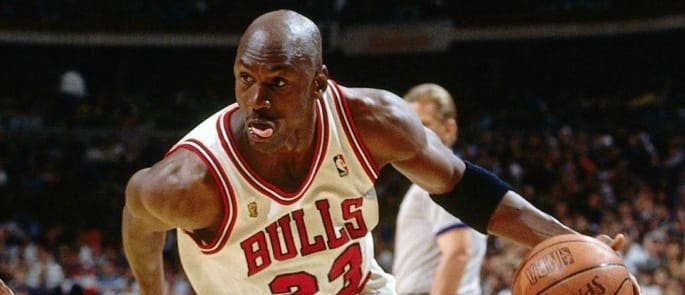 (Source: Flickr)
It's a bold move for an athlete to get involved with marketing in such a way, and the pay-off is huge. As Nike's man through and through, Jordan not only took the platform to receive a gold medal for himself but also for Nike.
This event signalled what was to be just the beginning of Nike's career as they became the unofficial winners of ambush marketing.
---
2. The 1996 Atlanta Olympic Games
In 1996, Nike had a marketing moment of Olympic proportions at the Atlanta Games.
In 1996, Reebok were the official sponsors – but who could tell?
Nike was plastered everywhere.
On the feet of athletes, on flags fluttering in fan hands, and on every imaginable billboard space in Atlanta.
Nike even built a building overlooking the Olympic Park.
While Reebok was invited (and paid over $20 million for the pleasure), Nike showed up unannounced and rocked the party. And, no one was going to stop them from just doing it.
It was an iconic moment that cemented Nike as a challenger brand.
This photo of Scottie Pippen's Nike Airs dominating the scene sums up Nike's strategy pretty well.
At the same 1996 game, the US sprinter Michael Johnson wore iconic golden track spikes when he shattered the world record and won gold in the 400 metres.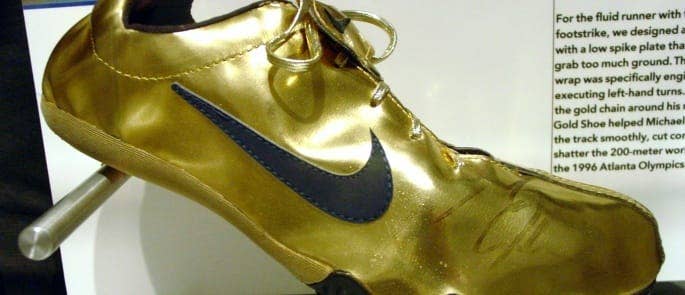 (Source: Wikipedia)
What's more, last year Johnson tweeted "Bringing the gold shoes back" saying he had just wrapped up shooting a new Nike advert. Sole Collector predicts the golden shoes will reappear at the 2016 Olympics in Brazil, so who knows what Nike has in store for this year's Olympics.
---
3. The 2012 London Olympic Games
While only official sponsors of the Olympics games were allowed to use the words Olympics, London 2012 or the image of the Olympic rings, Nike still managed to find a loophole. And it was magnificent.
If you haven't seen Nike's 2012 'Find Your Greatness' advertising campaign. It's spectacular. You should probably watch it now.
The advert features "everyday athletes" from a series of locations from all over the world called London. Very sneaky. London's in Ohio, Canada, Nigeria and Jamaica are shown where "everyday athletes" find their greatness through pogo-ing, jogging, hand-standing and swimming.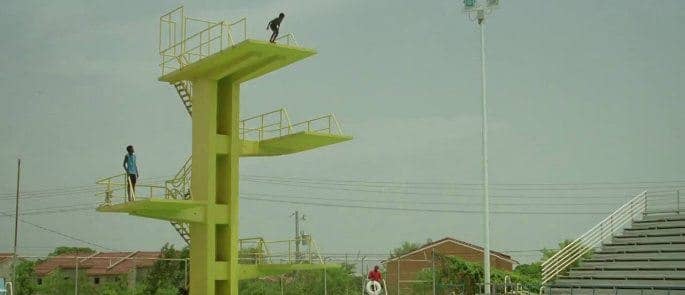 (Source: Vimeo)
Every line in the six-minute advert is a jab at the Olympics and it perfectly aligns with their mission statement.
"To bring inspiration and innovation to every athlete* in the world."

"*if you have a body you are an athlete." – Nike, Mission Statement
The advert is perhaps their most successful Olympic ambush so far. Every antagonism cements Nike's position as the champion of everyday activity. Every dig inspires their audience to step outside of official boundaries and to challenge the very definition of success.
The ultimate success? Their advert managed to evade breaking the advertising code but still created an online buzz through their jabs at the Olympic Games.
Who knows what lies in store for this year's Olympic Games? Whatever it is, it'll be world-class.
(Cover image source: Pixabay)
---
Further Resources: