How to Set Up a Food Stall at a Festival
June 14, 2019
6 min read
The UK festival scene is booming – with the current figures suggesting they contribute upwards of £200 million to the economy each year. In fact, spending on food and drink at festivals has nearly doubled over the last 10 years, with the average consumer spending between £50 and £115.58 per head. With these figures, it's easy to see the appeal of pitching your food business in, quite literally, the heart and soul of the party.
In this guide, we'll help you explore which festival may be right for you, identify exactly what you need to apply for a pitch and give some tips to ensure you're ahead of the competition.
---
Which Festival is Right for Your Food Business?
When you think of festivals, it's likely that the 200,000 plus attendees of Glastonbury, Leeds/Reading and other such household festival names spring to mind. Of course, this kind of exposure could be fantastic for your food business. However, if this is your first attempt at setting up a food stall, it is advisable to apply for pitches at much smaller scale festivals.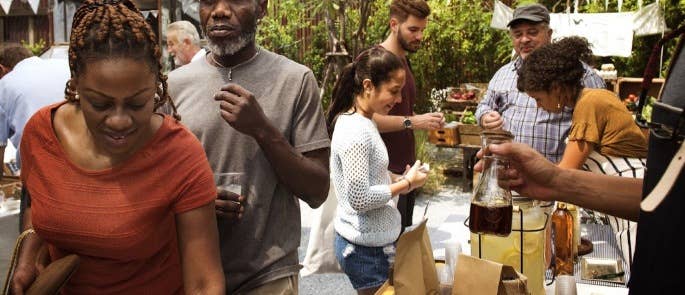 This will give you a good understanding as to what you can realistically achieve and an idea of how to progress in the future. The Association of Independent Festivals is a great place to start your search for the perfect event. It has over 50 listings, detailing festivals from all over the UK that range from a few hundred to a few hundred thousand attendees. This will help you shortlist several festivals that attract a level of custom you think you can manage.
When assessing which festivals to apply for, consider your target market and compare this to their usual audience. If your food business specialises in fine dining and delicacies, larger scale festivals may not be the best option as convenience food is the top priority. Similarly, if trendy street food is your expertise, a traditional festival celebrating local acts and products may not yield great results.
Find Out What's on Trend
Your food business may cater to a variety of food tastes. If this is the case, do some research and find out what's in demand at the festival you are looking to attend. Festival forums, such as efestivals.co.uk, can provide valuable insight for both first-time and experienced business owners. For example, if you come across conversations requesting healthier food choices at festivals, you may want to reflect this in your menu. Offer healthy food options and consider displaying the nutritional or calorie information alongside it. Small additions like this will help to set you apart from the rest of the vendors.  
Ultimately, you need to assess your realistic budget, the clientele you cater for and the amount you will have to sell to make a profit. We'll talk more about costs in the next section.  
---
Costs of Setting Up a Festival Food Stall
Festival food stall costs range from a fixed basic price plus VAT or a percentage (around 20%) of your net takings, depending on which is greater.
Basic fixed prices can range from £300 to over £10,000. These costs will have to be paid in full before the event. There are several factors affecting the price, including:
Stall type

– you will be charged much less for snack stalls compared with hot food

Power requirements

– many festivals do not permit generators or external power sources. However, some allow you to use their power supply for an agreed fee.

Stall location

– you will pay more if your stall is in a prime location, such as near the main headline act of a larger festival.  

Festival scale

– Of course, it goes without saying, the larger the festival, the greater the price of the pitch. For smaller festivals, it may be possible to negotiate these prices but, due to the stiff competition with bigger brands at larger festivals such as Latitude, pitch prices are likely to be higher, with less room for compromise.
The following examples demonstrate how the event scale can influence the outgoing costs associated with pitching your festival food stall:
Cheltenham Jazz Festival attracts just over 30,000 people with 12 spaces for food vendors available. A

basic

pitch price for hot food catering was £2,000 plus VAT.

The

Great British Food Festival

takes place in various UK locations over the summer and attracts between 2,000-6000 people per day. As the focus of the event is food, they attract up to 100 traders at the event and a pitch price begins at £87.50 plus VAT per day.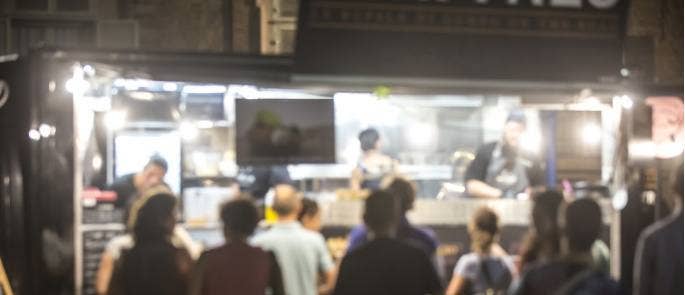 There will be other costs to consider when planning your festival food stall, such as:
Staff.

Power rental.

Vehicle or tent hire.

A percentage of your sales.

Parking.

Travel costs.

Stock.

Equipment.

Marketing collateral.
Before the event, it's important you add these costs together and consider how many of your food products you would have to sell to make the trip worthwhile. Plan realistically as, for example, if you are a bento box stall, it is unlikely you will sell much before lunchtime. Consider this and other natural lulls throughout the day when calculating the maximum quantity you will be able to sell.
You could also consider offering samples or 'taster sizes.' This can be significantly cheaper than full catering and may yield better results in terms of gaining brand awareness for your business with less overall spend. An example of this can be seen at more food-focused events such as the 'Pub in the Park' event series. Vendors offer tasters and samples with the option to buy products prepacked. You may be more likely to attract a higher volume of customers as they are not looking for one or two outlets to satisfy a full meal, rather lots of opportunities to try new things.  
---
Top Tip! Speak to fellow food vendors online or in person about their experiences. It is likely they will remember the hardships of getting started and so they may be happy to share their wisdom.
---
Food Hygiene & Other Health & Safety Requirements
Most festival providers have clear health and safety policies vendors must adhere to. You may be asked for evidence of compliance when you apply and spot checks can be carried out at random on the days of the event.
Several festival providers state that, in order to set up your stall, you must:
Be registered with a local authority.

Have received a food hygiene rating.

Have received

food hygiene training

if you are handling food.

Check out our

course chooser

to find out which level is the most appropriate for you.
As a food stall vendor, it is also likely you will have to provide:
Health and safety documents. These will refer to general risk assessments about the safety of your equipment, staff and stall set up. Similarly, some providers will ask you to evidence a specific fire risk assessment to show you have these measures in place. You will also be required to evidence that any electrical equipment has been PAT tested. Download our free fire risk assessment template here. 
Evidence of food safety management systems

. These are your policies and procedures to evidence your due diligence, such as

HACCP

.

A written scheme of examination (WSE).

A WSE is a legal requirement for any equipment that falls under the Pressure Systems Safety Regulations 2000 (PSSR). To operate a coffee machine, for example, you would be expected to produce a copy of this. Some festivals do not permit you to sell hot drinks, so definitely check with the provider first.

Clear allergen, dietary and nutritional information

. The nation is becoming more and more astute to the contents of their food. This is for a variety of reasons ranging from serious risks to their life, to personal preference and lifestyle choice. Make sure food is labelled according to regulations.

Our free, downloadable

allergen labels

will make this easy for you.
These are all examples of good safety practices. Even if a festival doesn't stipulate each requirement, it's still highly recommended that you have these in place. It's also important to bear in mind that this list is not exhaustive; requirements may vary between providers.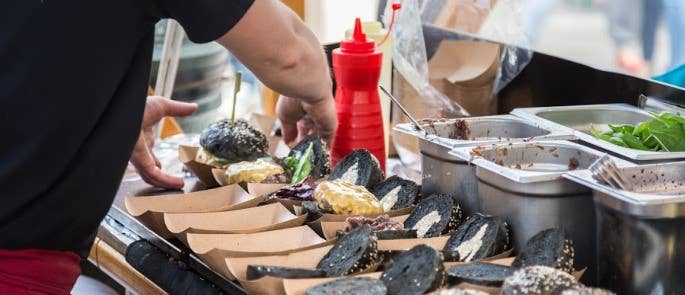 Having the appropriate documentation, registration and a food hygiene rating will assist with your pitch being accepted, act as a trust signal to potential customers and evidence your due diligence should anything go wrong.
---
How Do I Apply for a Food Stall at a Festival?
You'll have to approach each one directly. Head to your chosen festival's website, complete an application form and submit, along with any supporting information. The larger the festival, the earlier you need to apply. For some festivals, applications open as early as the autumn before. Therefore, it's important to consult the event's website or with the organisers, so you are aware of the relevant deadlines.
---
Top tip! If you've missed your target festival for this year, why not go along to it as a consumer to get a feel for the atmosphere, the audience and, of course, the competition. Ask the vendors about their experience, although be careful about doing so in peak time.
---
Be Prepared
Before you begin your application, revisit the requirements we discussed above. It is likely you will have to submit various documentation of your food hygiene and health and safety processes. You may be required to do this as you submit your application or within a week of your submission. You'll have to pay a fee there and then, usually around 20% of the total cost. The rest of the cost can be paid later, but the deadline for full payment will be well in advance of the event.
---
Final Tips Before You Go
We've given you the essentials to make sure you meet the minimum health, safety and hygiene demands for pitching your food stall to festivals. However, how can you really set yourself apart from the competition…
Make Your Food Stall Sustainable
The crackdown on single use plastic is prolific with global giants, such as McDonald's, changing traditions with their use of plastic-free alternatives. Sustainability is a top priority for society, so try and evidence your environmental awareness. For example, use recyclable food and drink containers and it could make you stand out from other vendors.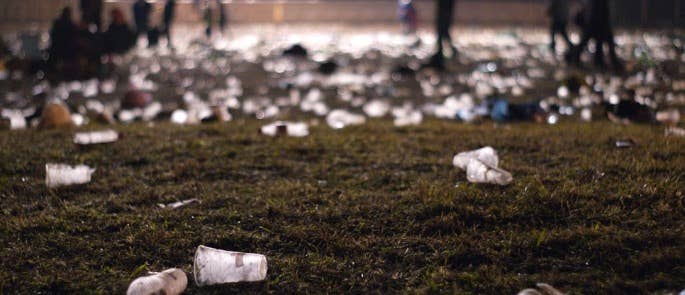 Festivals themselves are giving incentives for sustainable pitches. Glastonbury introduced a Sustainable Food Trader Award in 2015, with a "Gold" prize of a free pitch the following year. Entrants are assessed on the source of their food products, the diversity of their menu offering, the types of materials used for the stall itself and the sustainability of cleaning products and fuel requirements.
Let People Know About Your Festival Food Stall
Social media is a huge culture in festivals, with many goers eagerly sharing their experiences and the organisers themselves wanting to promote future events.
To make the most of this, announce your presence at your chosen festival early on. You could offer incentives for people to visit your stand with discount codes, or vouchers, to be redeemed at the event. Encourage the selfie festival crews to take pictures around your stall by having selfie frames at the ready with the event hashtag, if permitted, and your social media handle prominently on display. Essentially, your happy customers will be marketing your business for you, for free!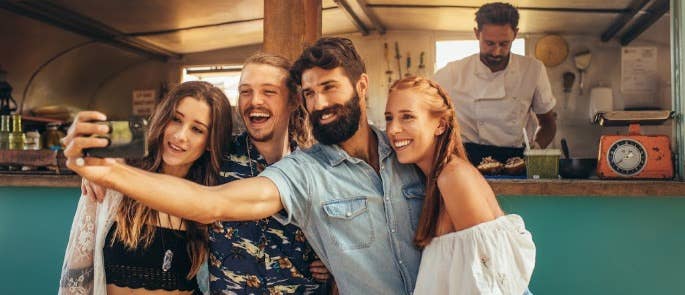 Enjoy the Day!
Above all, try and enjoy the experience. Whatever happens, it will be a learning curve for your business and an opportunity for you and your team to explore your potential. We wish you the best of luck.
---
If we can help in any way with your food hygiene and health and safety requirements, take a look at our extensive online course library, or call one of our dedicated support team today on 0333 006 7000.
---
What to Read Next: