How to Promote Equality, Diversity and Inclusion in the Workplace
February 24, 2023
8 min read
Promoting equality, diversity and inclusion (E,D &I) should be an aim of all workplaces, regardless of sector or size. In this article we will explain what equality, diversity and inclusion means, why it is important in the workplace, and how you can promote it to help create a better work environment for all.
---
What is Equality, Diversity and Inclusion in the Workplace?
Whilst equality, diversity and inclusion are closely related, and often discussed as a single concept, it is useful to consider the individual terms and their meanings.
Equality – means that everyone is treated the same, is treated fairly and has the same opportunities. Equity is slightly different from equality in that it recognises that each person has different circumstances. This means that varying types or levels of support might be required, depending on individual need, to take full advantage of equal opportunities.
Diversity – means recognising, respecting and welcoming everyone's different backgrounds, identities and experiences. Promoting diversity celebrates people's differences and uniqueness.
Inclusion – means that everyone is encouraged to retain their uniqueness, they aren't singled out for being different or expected to conform in any way, and have a sense of belonging and being valued.
Inclusion, importantly, goes a step further than diversity. For example, a company could claim to be 'diverse' based on the numbers of staff who meet a certain criteria. However, if an organisation is truly inclusive, then they ensure that every member of that diverse community feels valued and included.
Equality, Diversity and Inclusion in the Workplace Examples
Keeping those key terms in mind, here are some examples of how these might apply in a workplace setting:
Equality/Equity – Making sure that company processes and procedures do not discriminate against any individual or group. This runs throughout an individual's employment journey and could include anything from the wording of job roles – for example, using 'supervisor', which carries no gender implications, rather than 'foreman' – to providing British Sign Language interpreters at whole-company presentations.

Diversity – Actively welcoming differences in the workforce and valuing the contributions that come from those differences. For example, building awareness and celebrating those differences through things such as marking Pride Month or Menopause Awareness Week can help to promote an appreciation of diversity within your workplace. (However, care must be taken – awareness days, weeks or months can be powerful tools to help promote diversity but they should be part of a culture of inclusion – not an annual tick box activity.) If you are looking to learn more about menopause awareness, why not take a look at our article: How to Provide Menopause Support in the Workplace.
Inclusion – Ensuring that consideration is given to all aspects of the company culture to make sure everyone is included. For example, organising a team-building activity in the top floor VIP room at a bar for 4pm on a Friday evening could potentially exclude team members with particular religious beliefs, those with caring responsibilities, with physical disabilities or neurodivergent employees.
Equality, diversity and inclusion should be embedded in the workplace, regardless of the size of the organisation. How that will look in practice will depend on the particular company. There is no 'one-size-fits-all' approach to E,D&I in the workplace, but we will explore some key areas that should be considered when trying to improve E,D&I in your organisation.
---
Why is Equality, Diversity and Inclusion Important in the Workplace?
Whilst progress has been made towards equality, diversity and inclusion, we are still a long way from having a fully equitable and inclusive workplace, as illustrated by the following UK statistics:
As well as the fundamental importance of ensuring that no one is disadvantaged or discriminated against in the workplace, and that everyone feels that they are valued and respected for themselves, there are legal requirements and business-related benefits surrounding promoting E,D&I in the workplace.

Benefits of Equality, Diversity and Inclusion
There are a huge range of benefits that come with working to improve and prioritise equality, diversity and inclusion in the workplace. These can include, as the Advisory, Conciliation and Arbitration Service (ACAS) notes, helping to:
Improve the overall success of the business or organisation.
Keep employees happy and motivated.
Prevent serious or legal issues arising, such as bullying, harassment and discrimination.
Better serve a diverse range of customers or clients.
Improve ideas and problem-solving.
Attract and retain good staff.
Although research is limited, a confirmed link has been shown between inclusion and successful knowledge sharing, innovation and creativity within teams (CIPD, 2019).

Looking to Learn More?
Our Equality, Diversity and Inclusion Training Course has been designed to help learners understand more about their responsibilities for promoting equality, diversity and inclusion in the workplace. It aims to help you promote a fairer, more tolerant and more inclusive working environment.
---
Equality Act 2010 and Protected Characteristics
The Equality Act brought together a range of anti-discriminatory laws, and covers all of Great Britain. It offers protection from discrimination, harassment and victimisation for nine specific personal characteristics – known as protected characteristics under the law.
The protected characteristics are:
Age.
Disability.
Gender reassignment.
Marriage and civil partnership.
Pregnancy and maternity.
Race.
Religion or belief.
Sex.
Sexual orientation.

The Equality Act also protects those discriminated against through association or perception – for example, an employee discriminated against due to a partner's religious belief or due to being perceived as LGBTQ+.

Under the Equality Act, employers also have a legal responsibility to provide reasonable adjustments for employees or potential employees with disabilities. This could range from organising a job interview on the ground floor for a candidate who is a wheelchair user to offering choice on how to attend team meetings to support neurodivergent employees.
You can test your knowledge of equality and diversity law with our quick quiz.
Intersectionality
The term intersectionality refers to possessing multiple characteristics, which often overlap.
Intersectionality is about having a mix of identities and how these might combine to create different types of discrimination or privilege, and it's important to consider when looking to promote equality and inclusion for everyone. Those with intersectional identities can be more vulnerable to discrimination, and may experience discrimination differently.
---
How to Promote Equality, Diversity and Inclusion in the Workplace
Organisations need to take a systemic approach to inclusion, appreciating that inclusion isn't about allowing 'different' people to 'fit in'. Instead, inclusion is about creating an environment where everyone is appreciated for being individual.
Building Inclusive Workplaces: Assessing the Evidence, CIPD
There is not a single strategy or simple checklist to work through to successfully build a truly inclusive workplace – it will depend on your organisation, how inclusive the company currently is and the workforce and customer base you serve, amongst other things.
However, the following steps can help you on the journey towards improving equality, diversity and inclusion in your workplace.
Know your starting point
Before considering how you can improve E,D&I, you need to get as clear a picture as possible of where you are now. This will need to draw on several sources in order to be comprehensive.
In terms of diversity, regularly analysing recruitment and employee data can help to identify whether your workforce is representative of the community. However, there are limitations to data available, in terms of inclusivity, against which you might be able to benchmark. If you know, for example, that there is a marked imbalance in the age of the candidates you are attracting, you can begin to analyse why that might be and what possible measures could be taken to address that imbalance.
However, as inclusion is about whether people feel included, valued and able to thrive, you will need to gather information about how your workforce actually feel. This could include adding inclusion questions to regular anonymous staff surveys, discussions in mentor meetings or putting together focus groups to discuss particular issues, i.e. staff voice.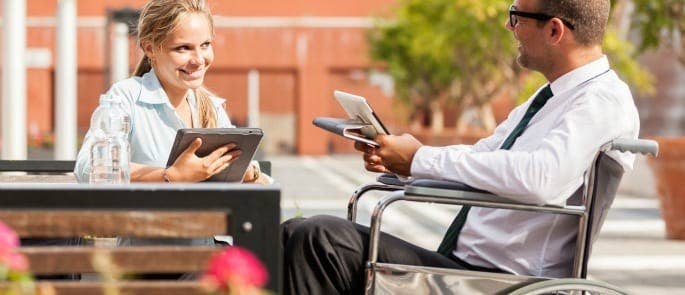 Create an inclusive workplace culture
This means that all aspects of work life include a consideration of inclusion. For instance, an organisation could ask themselves:
Is our imagery inclusive? – Consider images around your place of work, on your website or in marketing material.
Are a range of cultural events recognised across the company?
Do we promote a consideration of inclusive language and are measures taken to promote inclusive communication?
Do managers and leaders model inclusive practices?
Do social activities unintentionally exclude individuals or groups?
Are there opportunities for everyone to express their opinions? This could be via intranet feedback forms, staff surveys, etc.
Are flexible working arrangements in place that might help promote inclusion?
Develop an awareness of and avoid unconscious bias
You can only prevent unconscious bias when you are aware of it, so it's important to explore this. Further information can be found in our article here.
Develop an equality, diversity and inclusion policy
Every workplace should have an E,D&I policy and apply it to every aspect of employment. However, it is important that any policies exist within a culture that truly values difference. Policies alone will not ensure inclusion, but they can signal and cement the commitment to creating an inclusive workplace.
Consider where your organisation promotes this policy and what that signals to current and potential employees – does it appear front and centre of your website or intranet or do you have to hunt for it? (Barkworth, 2022)
Further guidance regarding developing an equality, diversity and inclusion policy, along with a downloadable template, can be found in our article here.

Complete Equality, Diversity and Inclusion training
All employees, including those with management responsibilities, can benefit from Equality, Diversity and Inclusion training, allowing them to build their knowledge of the issues surrounding E,D & I and to reflect on how they can contribute towards promoting and improving inclusion in the workplace.
Continually review and evaluate
It is important that the effectiveness of any strategies to promote inclusion is regularly evaluated, in order to build on what has been successful and identify any areas for further improvement. This can be done in similar ways to assessing your starting point, but on an ongoing basis.
---
Case Study – Bupa Global & UK
International healthcare company Bupa Global & UK was ranked as the UK's third most inclusive employer by Inclusive Companies on their 2021/22 index.
Bupa has over 25,000 employees and serves over 5 million customers worldwide. It operates dental practices, care homes, retirement villages, health clinics and a hospital.
On achieving the third place ranking, Carlos Jaureguizar Ruiz-Jarabo, CEO at Bupa Global, India & UK, said "…It is essential that everyone feels welcome and that they are able to bring their whole selves to work every day. Having a diverse workforce is also important as it is reflective of our customers, who are from every community."
Inclusive Companies highlighted the following important factors which have contributed towards Bupa's progress within diversity and inclusion over the past few years:
Active sponsorship of inclusion by two of Bupa's Executive team members, raising its profile across Bupa globally. This includes supporting a new employee network and ensuring all aspects of D&I are regularly on the Executive team agenda.
In 2020, the wider Executive Team proactively took the business-wide inclusion strategy and created bespoke inclusion plans for their specific business areas.
An internal sponsorship programme, Bupa Include, designed to support the career progression of underrepresented communities into more senior roles.
Executive and senior leaders regularly role model storytelling to celebrate diversity. They also proactively volunteer to host live storytelling sessions to be active allies of their people on subjects such as race, gender, faith, disability, family, sexuality and age.
Full details can be found on the Inclusive Companies website here.
---
Promoting equality, diversity and inclusion in the workplace helps to ensure that everyone is able to work in an environment where all aspects of their identities are recognised, respected and valued. It is important that all employees play their part in helping to create an inclusive workplace, where everyone is included, so that each individual and the entire organisation are able to thrive.
---
Further Resources: