How to Start a Catering Business
March 24, 2021
5 min read
The catering industry is, in short, huge. In fact, in 2017, the catering market was already estimated to be worth £4.7 million and continues to keep rising. More and more people are looking into starting a catering business from home. If you have a particular passion for food or events, this could be the industry for you.
The problem is – where do you start? That's where we come in!
Here in this article, we'll explain what the key requirements are to get your business off the ground. We'll cover everything from what licenses and equipment you need to ideas on how to effectively market your business. We'll even provide you with a free business plan template to get you on your way.
---
This article covers the following:
Use the links above if you'd like to jump to a certain section of the article.
---
Why Start a Catering Business?
First of all, let's start by looking at some of the benefits of starting a catering business. You might not have a degree in business, or a multitude of experience in retail, but don't let that stop you. All you need is a passion for providing people with delicious food and you can reap the benefits.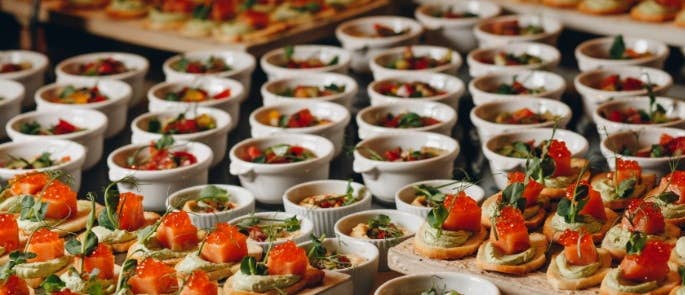 Work for Yourself
Do you want to be your own boss? Well, by running your own catering business, that's exactly what you'll be.
That's not to say it will be easy. Starting any business from scratch takes a lot of effort, hard work and energy. To begin with, you might have to work all the hours under the sun. Though you will be in control of this.
No one else will be telling you what to do, or when you have to work. There's a great amount of satisfaction to be had from creating something from the ground up, something that is all yours and yours alone.
Once you're established, you'll be able to dictate what hours you want to work, and which jobs you decide to take on. This will be a huge benefit to those of you who have other commitments, such as wanting to take and pick up your children from school.
Show Off Your Creativity
Not only will you be your own boss, but having a catering business gives you an opportunity to show off your creative side. You'll be in charge of choosing what you produce, how you do that, and what it looks like.
We all know that food can be a great outlet for creativity. Once you have decided on your menu and found your target market through research, you'll be free to let yours fly.
As a caterer, you'll also receive a lot of appreciation for producing great food for people's events. This is an aspect that can be overlooked in other job roles, but is a prevalent part of the catering industry.
There are fewer things more satisfying than seeing other people enjoy the fruits of your labour. In this case, you'll get to see them loving your recipes and food creations.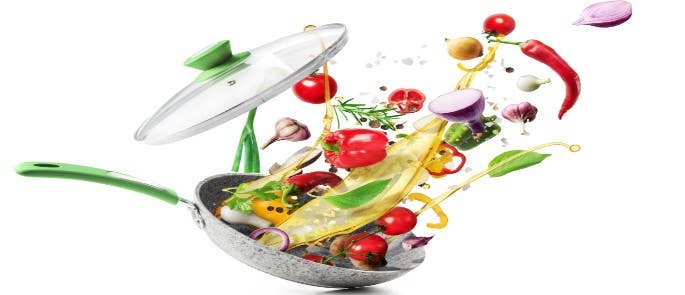 Diversification
With a catering business, the opportunities are endless. You'll never be stuck doing the same thing day in day out – one week could be a wedding, another could be a corporate event.
There are numerous paths that you could take your business, and if you find yourself changing your mind, you have the freedom to go down another.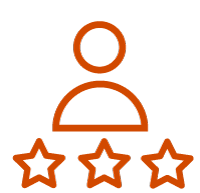 Starting a Home Food Business?
We offer a range of online training courses and, whilst our Level 2 Food Hygiene and Safety for Catering course will cover your hygiene requirements, our Starting a Home Food Business course goes into depth about everything included in this article and more.
Back to Top
---
How Do I Create a Catering Business Plan?
Once you have decided that starting your own catering business sounds like something you'd like to do, you need to do your research.
You need to discover what's currently out there and how you might fit into the catering industry. You need to make sure there's enough of a demand to make you a profit.
In order to find this out, ask yourself these questions:
Who is my target market?
What is my niche or unique selling point?
Are there any similar businesses in the area?
What do they charge for their products?
Are they successful or struggling?
Will I provide a delivery service?
Which platforms will I use to sell my products?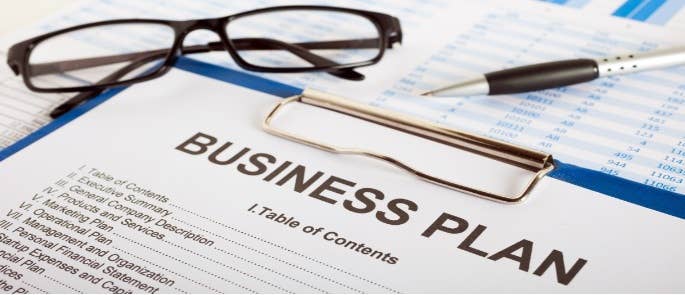 There are two types of market research – primary and secondary.
Primary research involves collecting your own data. This could mean creating your own questionnaires, surveys, or polls on social media.
Secondary research is collecting relevant information and data that has already been published by others. This could be as simple as an internet search.
Once you have completed your market research, you need to create your business plan. Every business needs to have a plan that contains the key information written down in a logical order. A business plan can help you to set out your objectives in a clear, concise way.
Essentially, you need to know what your business is going to look like, which direction you see it going in, and what you want to achieve from it.
We've created a free template to help you get started.
If you'd like to learn more information on this, you might consider taking a look at our comprehensive Starting a Business Course.
Back to Top
---
What Do I Need to Start a Catering Business?
Once you have organised your business plan, it's time to focus on making sure that your business will be legally compliant.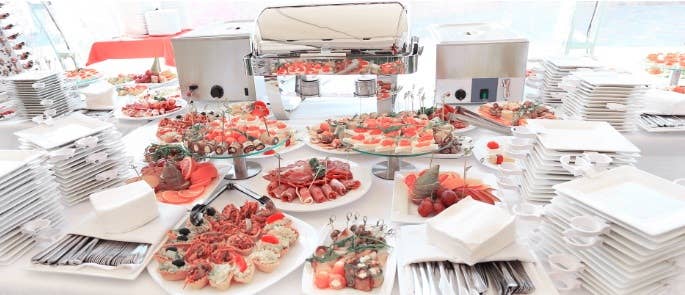 Registering Your Food Business
The first thing you need to do is register as a food business with your local authority. This must be done at least 28 days before you begin trading.
You'll also need to register every premises where you carry out food operations. This could be your home, a mobile catering unit such as a van or something similar, or a temporary location such as a market or food stall.
As you are likely trading from your home, you'll need to get permission to do this from your mortgage provider or landlord. It is legal to run a business from a rented property so long as you let your landlord know.
According to the government, anyone who runs their own business and is self-employed must register as a sole trader.
This means that in order to pay the correct amount of tax, you'll have to complete a Self Assessment Tax Return each year. As such, you should keep a record of both your sales and expenses.
If you begin trading without the proper licensing, it can result in fines and a prison sentence of up to two years.
Food Hygiene Training
Once you have completed the necessary registration, you will likely receive a visit from the Environment Health Office (EHO). This visit is usually conducted within 28 days of submitting your registration form. The EHO will ensure that you are compliant with all the relevant food hygiene legislation and are therefore safe to trade.
During the inspection, EHO inspectors will assess three areas of your home business:
The physical condition of your premises – Measuring your cleanliness, and whether you have suitable ventilation and pest control measures. If you need to undertake a risk assessment for your premises, you can find a free template here.
Food hygiene – Whether you have safe preparation, cooking and storage of food, and how you cool or reheat your products.
Food safety – What kind of precautions you have in place for this, such as having a HACCP (Hazard Analysis and Critical Control Points) system implemented.
Once they have completed their inspection, the EHO will issue you with a food hygiene rating. If you'd like to learn more about what to expect from an EHO visit, you can do so here.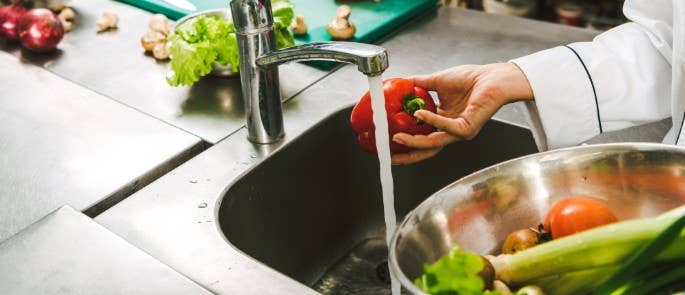 Food safety is immensely important, and you must do everything in your power to ensure that you follow all the guidelines. You may consider taking an online food safety course, such as our Level 2 Food Safety & Hygiene course. Our course teaches food handlers their legal responsibilities and best practice to ensure food safety. By law, all food handlers must have an understanding of the basic principles of food hygiene and know how to work safely so as to protect the food they serve from contamination.
A vital part of food safety is having a sound knowledge of allergens. We have a food allergy chart available for you to print and use in your business. This can be a quick and easy way to communicate allergens with your customers and reassure them that you are dedicated to food safety.
Food labelling is another crucial part of food safety. There are regulations regarding certain information that must be displayed on labels, and also specific allergen regulations for distance sellers. You must be able to provide allergen and intolerance information for your customers, especially with the introduction of Natasha's Law.
What Equipment Do I Need?
It can be intimidating imagining what kind of kitchen equipment you'll need in order to start your catering business. The truth is, it'll depend entirely on what type of food you're going to be cooking.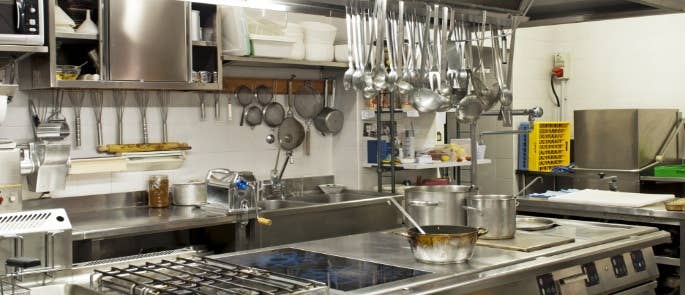 So, for a basic catering operation, for example, you'll need little more than:
Refrigerators to keep your supplies chilled and fresh.
Cooking equipment, such as an oven, grill or fryer.
Food preparation equipment.
A dedicated hand washing basin.
Dishwashing facilities.
It can be exciting to start a new business venture and tempting to go overboard with equipment that you won't actually need. Equally, you may need a little more than you already have. It's about striking the right balance between getting the equipment you need and leaving yourself short.
When conducting your market research, it will be helpful to decide what kind of services you want to offer. For some events, you may need to supply cutlery, for example, whereas others will provide their own.
Generally speaking, every catering operation should have access to:
A variety of kitchen knives.
Tongs, spatulas and/or serving spoons.
Different coloured chopping boards to avoid cross contamination.
Scales.
Thermometers.
Mixing bowls.
Suitable food waste disposal.
A catering first aid kit.
Aside from equipment, there are a few other consumables that are essential to the daily running of a catering business including:
Washing up equipment.
Cleaning and disinfectant sprays.
Protective clothing such as food handling gloves.
Disposable kitchen/blue roll.
If the idea of splashing out on a kitchen's worth of supplies is daunting, remember that you can always purchase second-hand equipment. As long as it is serviceable, it doesn't have to be brand new. You can find second-hand equipment in the UK here.
Back to Top
---
Marketing Ideas for your Catering Business
Now that you're legally compliant and all ready, it's time to get your business out there! Below is a list of tips or helpful hints when it comes to marketing your business and spreading the word.
It might work best to trial some methods and see what works for you. Don't be afraid to change up your marketing style as you and your products develop over time.
Social Media
For a business, social media is a golden opportunity. It is essentially a free marketing tool that you can use to your advantage. By setting up accounts on various platforms such as Facebook, Instagram, Twitter or TikTok, you can easily reach your target audience. Uploading photographs and sharing updates can help them get invested in your business.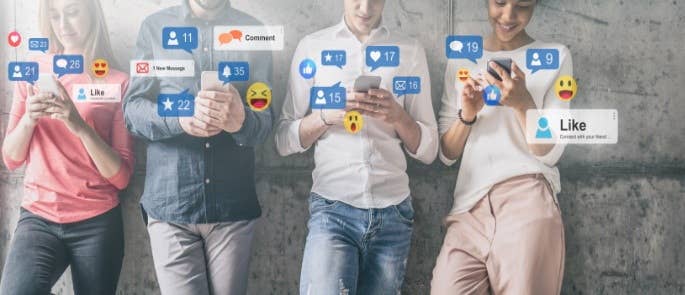 Signing up to each of the platforms with your business name will streamline your accounts and make it easier for customers to find you.
Social media can also provide you with a way to get in touch with your customers – asking them feedback or to see their reviews. This can be a helpful tool when looking at ways to improve your products.
For more information, take a look at our course on social media marketing, which is specifically designed to help you to get the most out of marketing online.
Branding
Make sure that your business name, packaging, and even social media accounts reflect what you want your brand to be.
For example, if you are using a recipe which goes back four generations, use that as your unique selling point. If you're a parent who wants to provide food for other children as well as your own, keep that in mind when building your brand. People are attracted to the personal journey behind the brand, and will think positively of something that they can relate to.
The key to building a strong brand is consistency, which will attract and keep your customers.
Food Art & Photography
In order to stand out from your competitors, you might consider your unique selling point. Social media is definitely one place to display this, but it could also be on your own website.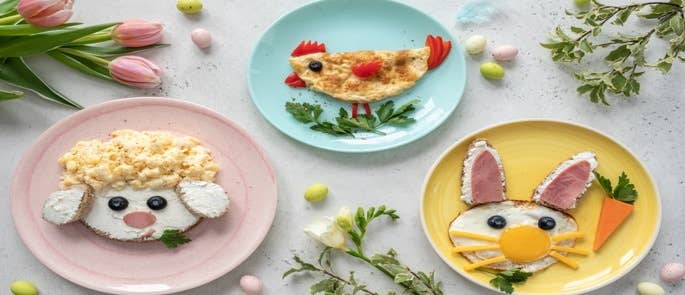 You're likely going to be photographing your own food, so you need to make sure that you do it justice. You can do this by ensuring that you have good lighting when you take the pictures, arrange the plate in an interesting way and keep the composition in mind. You can improve this easily by having a background that is appealing but doesn't distract from the plate of food.
There's been an ongoing trend in food art in recent years, so trialling something similar might be a good way to garner attention. If you need some inspiration, there are plenty of food art websites online.
Link up with Other Businesses
It might sound like a strange concept, but sometimes pairing up with another business can benefit you both.
Go and introduce yourself to businesses in your area. Perhaps the local events company is looking to partner up with a caterer, or perhaps your local florist is open to creating a package deal that combines both of your products.
Either way, the possibilities are endless – even if your local businesses are simply willing to spread the word about your services, or put up a flyer in the window. Having your own branded posters and business cards would be beneficial for this.
Back to Top
---
We hope that you've found this guide helpful, and we wish you all luck in starting your catering businesses. If you have any queries or further information, please don't hesitate to get in touch with us. We offer a variety of training courses that are written by industry experts, and can help you to make a success of your business!
---
Further Resources: