Effective Restaurant Management Tips: How to Improve Your Food Business
March 9, 2018
5 min read
Working in a restaurant, especially managing one, can be chaotic at times. However, a good restaurant manager has the commitment and skill to oversee their team and ensure everything runs smoothly. Your ability to coordinate and motivate your staff gets dishes to guests in good time and makes your restaurant a standout place to dine.
Do you have the know-how to effectively manage your food business? This article provides tips to help you fine-tune your managerial skills and lead your restaurant team as effectively as you can.
---
Qualities of a Good Restaurant Manager
Whether you're an experienced manager or new to the role, real enthusiasm and a willingness to learn is all it takes to adopt new skills and apply them effectively in practice. These newfound qualities will help you bring small yet significant positive changes to the restaurant.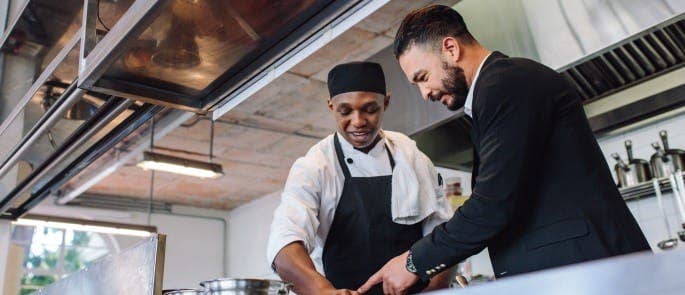 Follow these 4 key tips for improving your management and the business:  
---
1. Respond positively to the unexpected.
Due to the nature of restaurant work, things can move and change unexpectedly on a daily basis. Your attitude towards anything unanticipated makes a huge difference to how you and other staff can handle the situation, and to how customers perceive your restaurant.
For example, let's say some equipment breaks down in the kitchen. The last thing you should do is get angry trying to figure out who's to blame and stop service to sort it. Ideally, you'll have precautions in place beforehand and have backups, but these things happen.
A positive manager appears in control and keen to keep everyone happy, despite facing a problem. They'll be able to help staff adapt and work around the issue while it's being sorted, and keep people in a constructive frame of mind.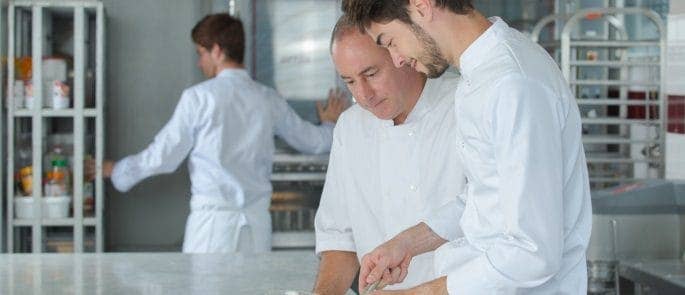 This gains staff's trust and respect, and improves morale. The team will feel confident in your ability to lead, more receptive to your instruction, and more relaxed. In turn, they'll make fewer errors and work efficiently through the unexpected situation.
Your positivity will also spill out into the dining room. Customers can easily sense the vibe at a restaurant, particularly if a manager runs around flustered and upset. When positivity resonates from you and your staff, guests feel reassured that your team knows what they're doing and that your restaurant is a great place to dine.
Remember that guests are at your restaurant to enjoy themselves, so you don't want to spoil the mood. Depending on the personality of your diners, you can even use trip-ups to your advantage. When errors occur, maintain positivity and go chat with their table. This reassures them you're doing what you can, lightens the mood, and impresses them. They'll feel like you really care about their enjoyment.
---
2. Be open to change.
The hospitality industry constantly develops. Trends come and go, technology updates, and the area around you changes. Don't make the mistake of thinking "This is how we've always done things" because it simply isn't viable. You must go with the flow of change if you don't want your restaurant to pass its best before date.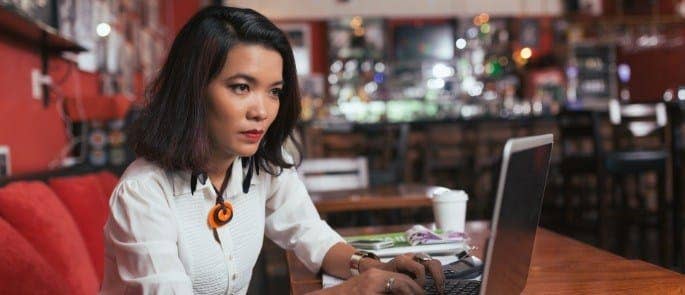 Ditch dishes that don't sell. They're a waste of resources and affect the quality of your service overall, as they strain your chef's ability to cook, prepare, and hold stock. They'll have less time to cook fresh dishes and will end up buying pre-prepared food to help with the workload. Plus, it clutters the menu, which can give customers the impression you're more about quantity than quality. Even if low-selling dishes are your favourites, you can't get attached. The food is for guests, not for you.
Watch what your competitors are doing. You can learn a great deal about what's popular by observing what a successful business looks like. Visit local bars and restaurants that are doing well to see what they're serving. This goes for both food and drink. Old-school stuff won't entice a crowd of customers; your restaurant should serve up-to-date products.
Read publications and social media. When magazines come through the door (such as the Morning Advertiser or The Caterer), thumb through them for new trends, products, and legislation changes. You may find some ideas you'd like to try.
Change keeps the restaurant relevant and breathes new life into your workforce. As long as it's not overwhelming and you get staff up to speed, it can really reinvigorate them. It's refreshing to break away from routine work patterns or simply come to work with everything looking clean and new.
---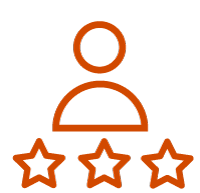 Need a Course?
Our Restaurant Hospitality Training Course teaches you all the skills and knowledge you need to provide exceptional restaurant customer service.
---
3. Keep your restaurant fresh and updated.
This ties in with being responsive to change, but is important enough to emphasise in its own point. You want your food and dining room to be modern and – most importantly – attractive to your target customers, so pay attention to recent trends.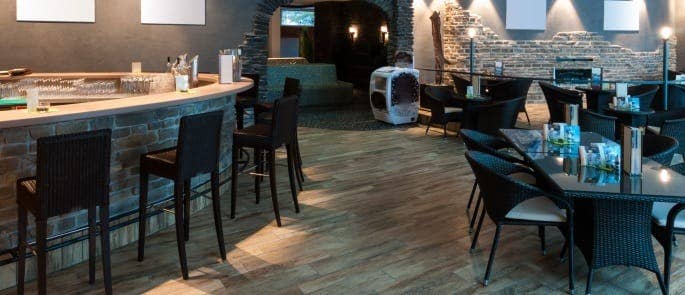 Aim to refresh your décor every 3-5 years and tidy up rundown parts of the premises annually. A new lick of paint, tidy corridors, and clean walls keeps the restaurant looking and smelling fresh, which affect your guests' perception significantly. Neglecting the décor, toilets, corridors, and other parts of the premises will drive customers away, as it gives a bad impression of the effort you make, so make sure you don't overlook these areas.
Keep your menu short yet varied, and in-keeping with seasonal trends. For example, push hearty dishes like meat pies in the winter and salads in warmer seasons. This ensures you stay relevant and please your customers all year round. Plus, it encourages them to come back later in the year to try something different. Change your specials regularly, and remember that they don't need to break the bank or never run out. You want people to actually buy them, and you want to keep switching specials up.
---
4. Be the face of the place.
This applies from both a customer and staff perspective. As a manager, you need to show your face around the restaurant and don different hats. Doing so is how you'll keep everything running smoothly and impress customers.
Work in the dining room and take orders. Talking to your guests and learning about them provides a personal touch. Although some people prefer to be left alone, a lot of guests will thank you for your effort by returning time and time again.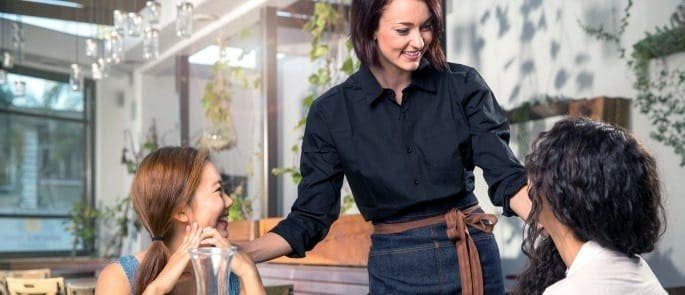 You must have a working knowledge of each area within your restaurant. It'll make you capable of supporting your team and getting things back on track if they fall out of line. Staff will know that they can come to you for assistance and trust in your abilities.
Furthermore, you should lead by example. The way managers behave shows staff what they can and should do too. Be on time, share views and ideas, and follow good practices (no gum, tie your hair up, wear the correct hair protection, etc.). Doing so will help them take responsibility when you're not there, and will lead to a good customer perception of your food business.
---
What to Read Next